Young researchers to showcase breakthroughs at Durham Regional Science Fair
Registration available until April 4
March 19, 2018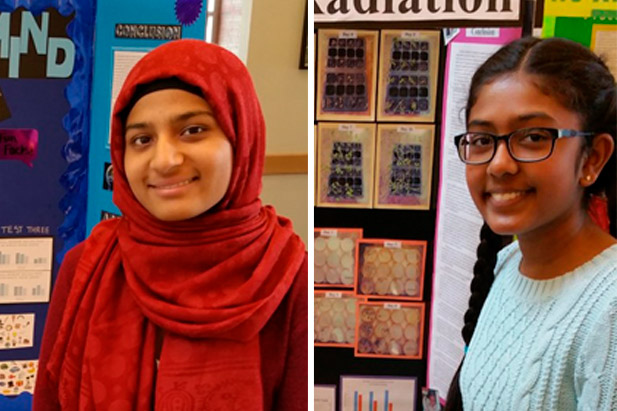 It's never too early to ponder the possibilities offered by the world of science.
The Faculty of Science at the University of Ontario Institute of Technology will welcome young scientists to campus Saturday, April 7 as they participate in the annual Durham Regional Science Fair (DRSF).
"Now in its 14th year here on campus, this is one of the university's longest-running annual events," says Mary Olaveson, Assistant Teaching Professor and DRSF Co-ordinator. "Involvement in a cool event like this encourages young people to build their awareness of science, technology, engineering and mathematics (STEM), the 'STEM' disciplines we hear so much about."
Students in grades 4 to 12 who live in Durham Region (Ajax, Oshawa, Pickering, Whitby and the townships of Brock, Scugog and Uxbridge) can participate in the DRSF. Students can be enrolled in public or private schools, or home-schooled. Two students in grades 7 to 12 will win an opportunity to compete at the Canada-Wide Science Fair in Ottawa in May; a prize worth more than $2,000 per participant.
Enter your project today!
"We have large numbers of eligible students across Durham Region, so we encourage students, teachers and parents to consider participating," says Olaveson. "The DRSF is a wonderful opportunity for students to share their passion and enthusiasm for science with judges, teachers, family and the public. The students have a ton of fun and get to meet scientists and researchers from the University of Ontario Institute of Technology community."
Projects on topics in science (biology, chemistry, physics), technology, engineering, math, environmental science and sustainability are all eligible to compete. Previous participation in any other science fairs (e.g. at their schools, libraries or other local organizations) is not required. Eligible projects include ones already completed in school or entirely new projects focusing on a special scientific interest.
Prizes:
Awards, medals and scholarships available:
Elementary (grades 4 to 6)
Junior (grades 7 and 8)
Intermediate (grades 9 and 10)
Senior (grades 11 and 12)
There are also special 'theme' prizes (environmental science, conservation, sustainability) and prizes for innovation-based projects.
DRSF public session:
Business and Information Technology Building, Atrium
Saturday, April 7, from 1 to 2:30 p.m.
Contact information:
---
Media contact
Bryan Oliver
Communications and Marketing
Ontario Tech University
905.721.8668 ext. 6709
2889.928.3653
bryan.oliver@uoit.ca