'Reverse' career fair advances students' employment opportunities
April 2, 2018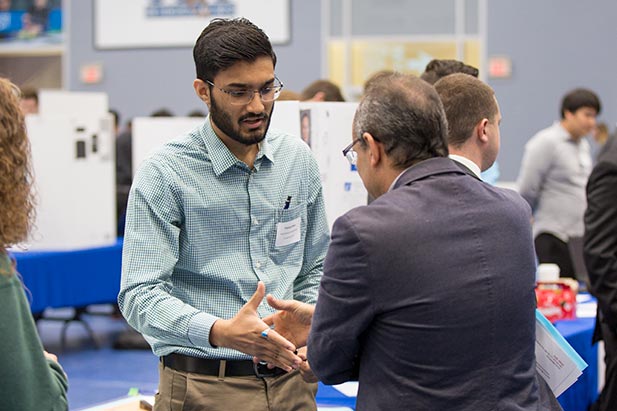 When it comes to hiring university students for a job, employers typically go through a time-consuming process of selecting prospective candidates and interviewing them.
On-campus job fairs help simplify the process for companies: they get to meet a large number of potential candidates in a very short timeframe. Students go from booth to booth to demonstrate their interest and knowledge to multiple employers.
But each year, the Office of Student Life at the University of Ontario Institute of Technology organizes what's known as a 'Reverse' Career Fair (RCF). At reverse fairs, the employers are the ones who do the walking around. The students are the ones in the booths, with their resumés and examples of their projects or research.
The university's student Engineering Society partners with Student Life's Career Centre to host the RCF for students in the Engineering and Applied Science and the Energy Systems and Nuclear Science faculties. A similarly structured 'Connect Day' takes place for Faculty of Business and Information Technology students.
"The Reverse Career Fair concept is perfect for undergraduate, graduate and PhD students because the companies come to them," says Janette Banga, Co-op and Internship Co-ordinator, Career Centre and Reverse Career Fair Co-lead. "Employers meet upcoming talent and explore the university's research infrastructure at no cost. Students network and learn about co-ops, internships and career opportunities."
Alumni and current student testimonials
"The Reverse Career Fair was a huge success. I had great conversations with representatives from Magna, Invista, Linamar, Maple Leaf Foods, Trane and Honda. In fact, I got an invitation to interview with heating, ventilation and air conditioning company Trane the very next day about a summer job opportunity."
-Manjesh Banawara, Manufacturing Engineering, class of 2019
"The Reverse Career Fair was a great opportunity to meet so many industry professionals and showcase my research work at the university with Sheldon Williamson, PhD, Canada Research Chair in Electric Energy Storage Systems for Transportation Electrification."
-Soma Chakraborty, Electrical Engineering, master's degree candidate
"The Reverse Career Fair introduced me to Maple Leaf Foods. I was able to have a relaxed conversation about my interest in working in food manufacturing. A job offer awaits after I finish my degree."
-Fahad Khalid, Manufacturing Engineering, class of 2019; 2017-2018 President of the UOIT Engineering Society (and international student)
"The Reverse Career Fair led to interviews for me at both Wolf Advanced Technology and General Motors. Wolf sent me a job offer the same day I had my interview. General Motors conducted phone interviews and I landed a position in energy conservation." 
-Kevin Wagner, Energy Systems Engineering, class of 2014, now employed with General Motors Canada
Company testimonials
Crossby Dewar Inc. (Oshawa): "It's a great opportunity for the students to show their skills and capabilities. We would absolutely register again and come back for another one. It's preferable to 'regular' job fairs."
Scotiabank: "It is a great event to network with students and understand their background and experience."
Are you interested in taking part in a future Reverse Career Fair at the university? The next one is set for Thursday, October 4. Email Janette Banga, Internship and Co-op Co-ordinator, or call 905.721.8668 ext. 6177.