Students land internships with electric vehicle giant Tesla
Mechatronics Engineering students going to California after exams
April 19, 2018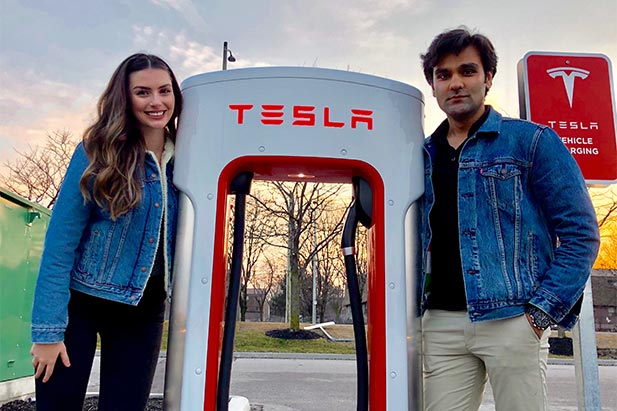 From the time she was a youngster, Rachel Illman has had a passion for ensuring the world preserves the environment for future generations. For as long as she can remember, her family has fueled her interest in science and technology.
"I was fortunate to have role models in my life who have pursued careers in engineering," says Rachel, a Mechatronics Engineering student at the University of Ontario Institute of Technology, "My grandfather is a retired military engineer who worked for SPAR Aerospace, which developed the Canadarm remote manipulator system for NASA's space shuttle program. And my aunt was a director of engineers for many innovative companies such as Oracle and Tesla."
Her family's stories brought her to the realization that implementing change in society requires gaining the knowledge and skills needed to design and create.
Now completing the second year of her program, Rachel is poised to convert these powerful family influences into her own career journey. Starting in May, Rachel and her classmate Hamayal Choudhry will embark on an eight-month internship with electric vehicle pioneer Tesla Inc., in Fremont, California. Both will work in the Body-in-White Robotics and Controls division of Powertrain Manufacturing, assisting engineers in improving and commissioning automated cells to ramp up production.
"Beyond all the software programming, mechanical and electrical skills, perhaps the most important thing engineering has taught me is how to solve problems," says Hamayal, who created a wireless charging electric car to win the Durham Regional Science Fair as a Grade 9 student. "It was this same problem-solving framework that allowed me to secure this internship at Tesla. I thought 'how can I stand out for this internship amongst the thousands of other highly qualified candidates who will be applying?' It comes down to putting my heart and soul into personal projects: sharing knowledge at the Ontario Science Centre for the past three years and attending hackathons all over the world. These experiences have transformed my knowledge and passion into something tangible."
Rachel and Hamayal both say they earned the Tesla internship by taking a relentless approach with the company. They built up their online profiles and resumés, and reached out to countless Tesla recruiters, engineers, directors and human resources representatives. Their persistence paid off, offering a vital lesson that it's never too early to be laying the groundwork for your career.
"People often underestimate the power of networking," says Rachel. "You need to take the initiative for making contact and attend as many recruiting events as possible. You never know when a connection may be the link to your dream position. Maintaining contact keeps you fresh in the minds of recruiters and near the top of their list for the moment when an opportunity arises."
The 2018 Tesla interns credit the contributions of Faculty of Engineering and Applied Science (FEAS) faculty and staff, as well as extracurricular experiences.
"Since I arrived at the university in 2016, the university has always provided valuable advice and resources, and gone above and beyond to ensure student success," says Rachel. "I have been a FEAS Outreach Facilitator, chatting with hundreds of high school and elementary school students, helping deliver 'We Made It' workshops as well as the FEAS Eng Squad summer camps for aspiring young engineers."
Rachel is a Director of Student Life in the student Engineering Society, a Women In Engineering Peer Mentor, and has been part of the university's  Motorsports team.
Hamayal is President of the Mechatronics Society, an executive member of the Institute of Electrical and Electronics Engineers student chapter at the university, and a web developer for the university's Student Union.
"If there's something out there you really want, the universe has a funny way of making it happen," says Hamayal. "But don't wait for it: you need to put in the hard work. Being from an immigrant family, my parents' dedication and perseverance is one of my driving forces. They started from scratch and worked around the clock. Every opportunity they had, they created for themselves. My opportunities will widen and narrow in direct proportion to the investment I make in working hard."