University researchers propose new cooling solution for battery packs in hybrid cars
Study finds propane vapour can help maintain uniform temperatures
April 4, 2018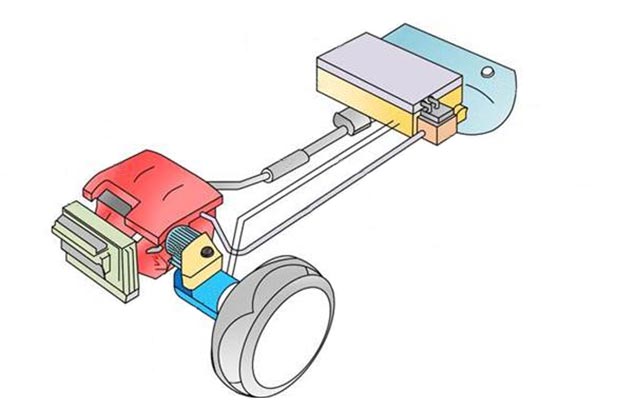 When it comes to protecting the environment and conserving energy, hybrid electric vehicles hold a lot of promise. While there are still some energy efficiency challenges to overcome, a team of University of Ontario Institute of Technology researchers has developed a novel solution.
The heating and cooling challenge
Hybrid cars are powered by the combination of an internal combustion engine, which runs on gasoline stored in a fuel tank, and an electric motor, which runs on the energy stored inside a battery pack containing several lithium ion battery cells. The battery needs to recharge periodically.
Recharging presents a number of challenges. Consumers want fast charging times—but the faster the energy flows into the battery pack, the hotter the pack gets. Batteries have a limited optimal temperature range; stray outside that range by overheating the battery and you risk reducing the vehicle's performance, safety and reliability.
A hybrid vehicle's thermal management system (TMS) mitigates this challenge by regulating the battery pack's temperature. Cooling technologies vary across automakers, and each approach has pros and cons. Air-cooling, for example, is generally lower-cost and less complicated, but it is less effective at maintaining a uniform temperature as charging rates increase. Liquid-based systems cool batteries faster, allowing for faster charge and discharge (delivery of power from the battery to the electrical motor) rates, but they can take up a lot of space and be costlier to maintain.
Propane vapour as a solution
In a recent study, researchers at the University of Ontario Institute of Technology's Clean Energy Research Laboratory proposed a new kind of TMS: one that takes advantage of propane's ability to absorb heat when it changes from liquid to vapour.
The researchers developed a three-dimensional electrochemical thermal model to simulate battery heat generation and subsequent cooling. In their proposed system, the battery pack is partially submerged in liquid propane. Boiling the propane removes heat the batteries generate. The resulting vapour also cools the part of the battery not covered by the liquid propane.
The study, published in the Journal of Power Sources, shows the propane-based cooling system maintains battery temperature at an acceptable range during continuous charge and discharge.
Research team:
Maan Al-Zareer, Mechanical Engineering PhD student
Ibrahim Dincer, PhD, Professor, Faculty of Engineering and Applied Science (FEAS) (Supervisor)
Marc Rosen, PhD, Professor, FEAS (Co-Supervisor)
Quote
"This unique propane-based thermal management system proposed by our University of Ontario Institute of Technology research team has offered the potential to boost the efficiency of hybrid electric vehicles by reducing charging time and increasing the distance a vehicle can travel on a single charge. In addition, because the system requires less space than conventional cooling systems, vehicle designers could allocate that extra room toward more leg space or luggage storage. We believe our research advances hybrid electric vehicles closer to being an attractive alternative to conventional cars. Our findings will help customers and the automotive industry make an easier and faster transition to electrical energy-powered vehicles."
-Ibrahim Dincer, PhD, Professor, Faculty of Engineering and Applied Science