University students showcase on-the-job learning at 2018 FSSH Practicum Poster Day
April 27, 2018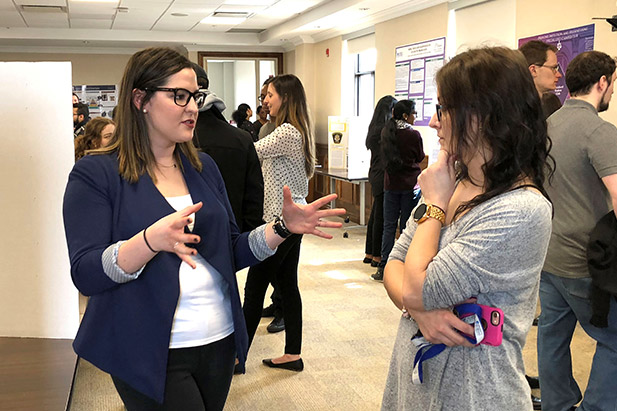 University students spend much of their time in the classroom learning theories related to their chosen field of study—but when they have opportunities to put those theories into practice in the workplace, those concepts come to life in new ways.
At the 2018 Practicum Poster Day event on April 9, students from programs across the Faculty of Social Science and Humanities (FSSH) showcased connections between their academic studies and work-placement experiences.
The Practicum is a competitive course, offered to a select group of fourth-year students. It includes 100 hours of unpaid placement, as well as several in-class seminars and assignments. The course runs in both the Fall and Winter semesters.
This year FSSH partnered with nearly 70 organizations in Durham Region and across the Greater Toronto Area.
"The Practicum gives students a better picture of how their personal, professional and academic goals intersect", says Dan Walters, Practicum Co-ordinator, FSSH. "Students apply what they've studied for four years in a way that makes sense to whatever field of work they are pursuing."
"We find some of our best staff through student placements," says Jaki Mackinnon, Executive Director, Bethesda House. "They might not even be sure this is the field they want to go into, but then they end up getting a feel for the clients and decide they want to stay. Our relationship with the University of Ontario Institute of Technology is really important to us. It lets us scope who's coming into this field."
Select student testimonials:
"At university you focus a lot on academics, but if you want to get a job after you graduate, you need to have experience. The Practicum placement helped me develop myself as a professional and as a person. The experience I gained there is something I will have with me forever. I learned that if I work hard and am passionate about my job, it will get noticed."
- Maurizio Bernardo (Criminology, class of 2018)
Ministry of Community Safety and Correctional Services - Danforth Probation and Parole office
"The Practicum gave me a better sense of how people are generous and are willing to give and help their community. It improved my understanding of what I learned in the program and how I can apply it on the job."
- Steven Kassar (Criminology, class of 2018)
Habitat for Humanity
"I learned many things I feel would be directly transferable to my field because I'm looking to get into clinical or forensic psychology. My supervisor, a psychometrist, did a lot of scoring and assessment tests to determine if someone had a chronic disorder or attention deficit hyperactivity disorder. Those are things I may be potentially doing in the future."
- CeAnn Marks (Forensic Psychology, class of 2018)
Frontenac Youth Services
"I was able to participate in many hands-on intelligence and enforcement activities, including location checks, to gather evidence and information on targets being investigated. I also learned a lot by completing a project where I had to look at Ontario hotspots for contraband. It was incredible to see first-hand how all the units contributed to investigations."
- Allen Tieu (Forensic Psychology, class of 2018)
Ministry of Finance – Investigation
"I learned a lot about how organizations get their staff to come up with creative ideas. I had an opportunity to sit in on a visual meeting, which is what the Region of Durham uses to engage with staff members in a collaborative, participatory way. The staff members were incredible; they made it so much fun to come to work every day."
- Emma Kuhne (Communication and Digital Media Studies, class of 2018)
Durham Region Headquarters - Innovation and Research Unit
"At Bethesda House, I was in charge of Guys for Change, a program targeted at male youth who are at risk of becoming perpetrators of domestic abuse due to early exposure to domestic violence. I applied the theories I learned in class to explain to the program participants how various systemic and environmental factors can influence their behaviour, starting with prejudice and discrimination, and eventually snowballing to abuse and even murder."
- Ragavan Sanjayen (Criminology, class of 2018)
Bethesda House
"I am moving on to law school in the fall, so this practical experience and knowledge is a really good tool to have in my arsenal. The university's Legal Counsel department has been really helpful and supportive of me."
- Emily Elliott (Legal Studies, class of 2018)
University of Ontario institute of Technology – Office of the University Secretary and General Counsel
Gallery