Crossing cultures: Mechatronics Engineering student heads to Japan for international co-op
June 26, 2018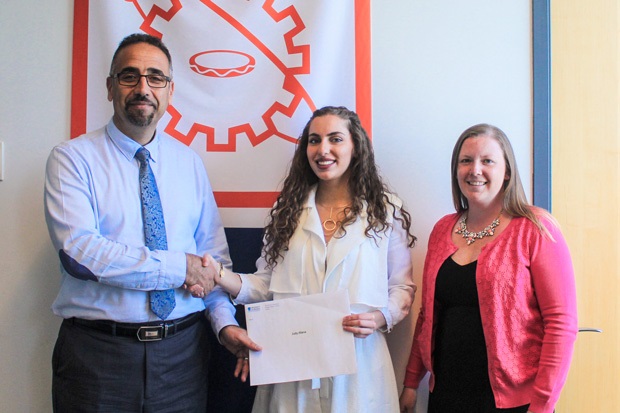 From a young age, Judy Afana has been fascinated with how electronics, mechanics and computers work together. In Grade 5, she built her own robot. By the end of high school, she was certain she wanted to pursue a career in engineering.
However, Judy did encounter a few hurdles along her academic journey. In 2014, she applied to study Engineering at the University of Ontario Institute of Technology and found that she would require additional physics courses. This didn't stop her from pursuing her dream: heeding her parents' advice, she took the last few courses she needed. The following year she reapplied for the university's Mechatronics Engineering program and was thrilled to be accepted.
Having finished her third year, Judy is now on the Dean's list. She is also off on an exciting adventure: in June she began an eight-month international co-op education work experience with Rakuten Inc., an electronic commerce and Internet company in Tokyo, Japan.
"I am so glad I did not give up my dream to become an engineer," says Judy. "The University of Ontario Institute of Technology's Mechatronics Engineering program has provided me with multidisciplinary knowledge of mechanical, electronics, electrical and software engineering—all of which is going to help me immensely in this co-op experience, and in my future career. Working in Rakuten's Commerce department will help me improve my software skills. I also hope to join the company's Robotics team so I can put my mechatronics skills to use. Eventually, I want to use everything I have learned in the classroom and through my work placements to launch my own business after I graduate."
"Judy has brought a tremendous passion and energy to her pursuit of co-op opportunities," says Anne Coulby, Co-op and Internship Officer in the university's Faculty of Engineering and Applied Science (FEAS). "Last year, she participated in a successful co-op at General Motors. Her determination to pursue both local and worldwide co-op experiences is sure to take her far in her future career."