International student a 'rising star' in Bermuda's information technology sector
University's Networking and IT Security program opens door to a successful career
June 18, 2018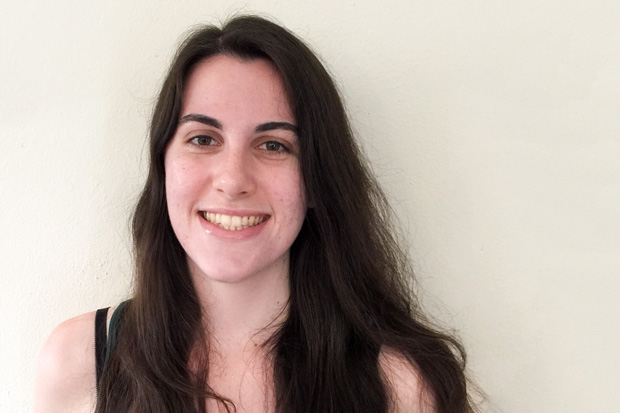 Caroline Caton has been interested in technology for as long as she can remember. Growing up in Bermuda, she was fascinated with how computers work and how they can help find solutions to just about any problem.
By the time she had completed the International Baccalaureate program at Bermuda High School, Caroline had decided she wanted to turn her curiosity into a career. In 2016, she entered the University of Ontario Institute of Technology's Networking and Information Technology (IT) Security program.
Caroline still has two years to go before she graduates, but her hard work has already paid off in many ways—including recognition from the Government of Bermuda. In late April, Bermuda's Department of Information and Communications Technologies (ICT) Policy and Innovation named her a 'Rising Star in ICT', as part of an initiative to recognize women on the island who work in the ICT field, and to celebrate the International Telecommunication Union's Girls in ICT Day. Caroline was one of six Bermudian women in IT whose images were featured on a colouring contest poster distributed to school-aged children across the island.
As an Bermudian government intern, Caroline worked on numerous projects related to cybersecurity, cyber-awareness and digital commerce.
"The knowledge I received from my program regarding cyber threats and attacks has been extremely useful," she says.
She was lead writer and editor of the 2017-2018 IT Career Guide, and helped draft the Cybertips workshop curriculum, an Internet safety resource for parents, children and educators launched by Bermuda's Ministry of Education and Economic Development and Department of E-Commerce. She also helped develop the Department of ICT Policy and Innovation's 2018 Student Survey, used to help build a curriculum for the 2018 Digital Leadership Conference in Bermuda
Caroline says her university experiences have been key to her many successes. The Networking and IT Security program offered the perfect combination of academic courses, hands-on experience and opportunities to meet people.
Networking and IT Security students participate in IT skills workshops, where they work in groups for their core classes, honing their skills in delegation, collaboration and time management. They can also pursue various levels of industry certification.
"I was intrigued that I could get my Bachelor's degree in IT and get a minor in Operations Management without having to go to a business school," she says. "Business and IT are closely linked with one another, so the fact that the University of Ontario Institute of Technology offered that was a major bonus. I also appreciated having access to the newest technologies through unique learning environments like the Networking Laboratory. There are students in my classes from all over the world."
Caroline has made valuable connections with industry professionals and received additional hands-on experience through involvement in on-campus groups like the Networking and IT Security Society.
"As I continue to navigate the job market, all of the opportunities and experiences I've had at university will help me reach my career goals."