Political Science graduate shares remarkable Convocation journey
Sadaf Parweez is a proud First Generation Canadian degree recipient
June 12, 2018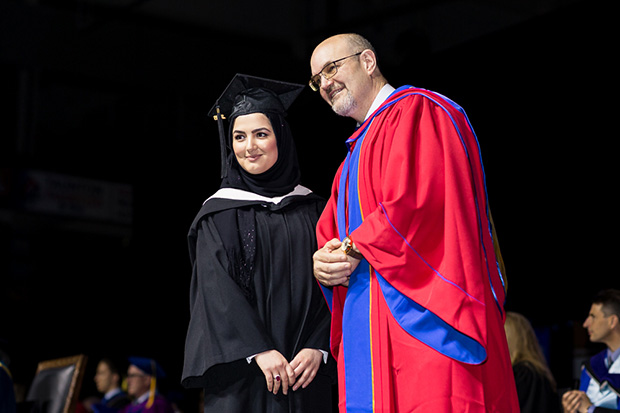 In the early 1990s, Sadaf Parweez was a young girl living with her family in Afghanistan. The country was locked in a civil war, well on its way to falling under the control of Taliban forces. Civilians were left with no rights. When Sadaf's father lost his business in 1995, her parents along with her five siblings fled the country, seeking refuge in Pakistan.
Sadaf dreamed of eventually pursuing a university education, but had no idea if that would ever be possible. In 2002, her family emigrated to Canada, settling in the community of Woodbridge, just north of Toronto, where she would attend Maple High School.
"After high school, I worked for a while before enrolling in a Social Work program at Seneca College," says Sadaf. "I graduated from Seneca in 2014, but I wanted to pursue something further. I set my goals on the University of Ontario Institute of Technology's program in Community Development and Policy Studies (CDPS)."
Two years ago, the CDPS program rebranded itself to Political Science. On June 8, Sadaf was a member of the new program's first graduating class.
"I am proud and grateful to be the first person in my family to have had the opportunity to graduate from university," says Sadaf. "The Political Science program was fascinating. Whether people realize it or not, everyone's life is somehow involved with politics or impacted by it. But unlike places like Afghanistan and many other countries in the east, people in Canada have a voice: they are empowered to speak up."
Upon graduation, Sadaf's mission is to help people in Canada and outside of Canada achieve their goals. She currently works with Muslim Welfare Home, a women's shelter in Whitby. She is also passionate about ultimately applying her new knowledge and life experiences to help Canada's Indigenous communities.
"Canada has provided me and my family with an opportunity for a new life. My new country and my university have provided me with a welcoming, friendly and respectful environment in which to learn. I look forward to the opportunity to do what I can to give back in the future."
About Convocation 2018
More than 2,100 graduates in four ceremonies over two days.
Graduates from seven faculties, along with master's and PhD graduates from the School of Graduate and Postdoctoral Studies.
First program graduates recognized in Forensic Psychology (Master of Science), Political Science (Bachelor of Arts) and a new major in Entrepreneurship (Bachelor of Commerce).
First Convocation for recently installed President and Vice-Chancellor Steven Murphy, PhD.
With this 15th Convocation, the university has conferred more than 18,700 degrees since inception.
Honorary degrees (biographies hyperlinked):
The 2018 Convocation webcast recordings are available for viewing on the university's website (uoit.ca/convocationwebcast).
Gallery