ACE helps students get the jump on aerodynamics with skydiving workshop
Engineering students expand their understanding in the ACE Climatic Wind Tunnel and iFLY Wind Tunnel
July 6, 2018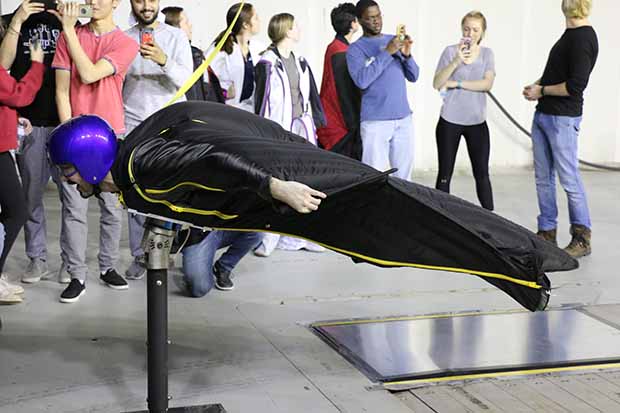 The ACE Climatic Wind Tunnel at the University of Ontario Institute of Technology delivers one of the best state-of-the-art research and development environments on the planet. But did you know ACE's capacity for innovative learning also makes it one of the world's most advanced classrooms?
ACE aims to teach traditional engineering subject matter like aerodynamics in a very untraditional way, through the science of free fall. Working with Whitby, Ontario's recently opened iFLY Wind Tunnel, ACE has launched its Aerodynamics of Free Fall workshop.
The first half of the program takes place at ACE, where students learn about wingsuit design and experience the implications of design first-hand at high wind speed. Part two happens at iFLY, where participants better understand terminal velocity through interactive labs followed by the opportunity to experience free fall.
ACE and iFLY developed the workshop with Aerospace Engineer and Extreme Athlete, Angelo Grubisic, one of the world's top wingsuit base jumpers. Grubisic is currently on a mission to set a new world record for the highest wing suit jump at more than 12 kilometres (over 40,000 feet).
Third- and fourth-year engineering students from five universities attended the first workshop:
University of Ontario Institute of Technology
Queen's University
Ryerson University
University of Toronto
Western University
The next workshop will take place in the fall for University of Ontario Institute of Technology Engineering students.
To learn about ACE workshops, research and see more testing videos, follow ACE on: