Seeking a brighter future for energy and the environment
University's 2018 Futures Forum examines how institutions, corporations and individuals can lead efforts for sustainable cities
July 18, 2018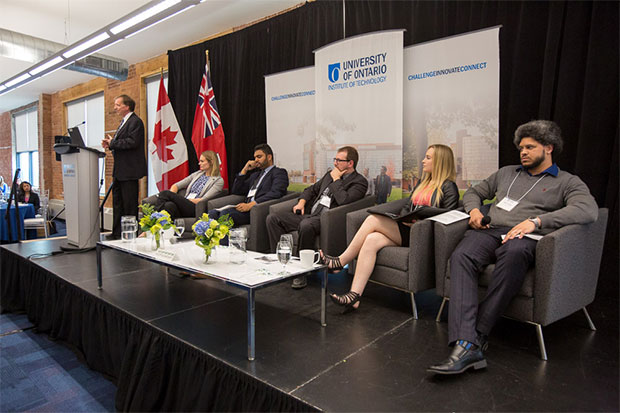 The world is becoming increasingly urban. Fifty-five per cent of the Earth's population currently lives in cities; a recent report from the Population Division of the United Nations Department of Economic and Social Affairs projects that figure will balloon to 68 per cent by 2050.
As cities grow, they face new challenges related to transportation, energy use, infrastructure and sustainability. According to the World Bank, cities consume as much as 80 per cent of energy production worldwide and account for a roughly equal share of global greenhouse gas emissions.
How can cities best tackle these energy and environmental challenges? 
On May 2, the University of Ontario Institute of Technology welcomed influential thought-leaders, researchers and industry experts to the President's Futures Forum on Energy and the Environment. The symposium explored the urgent need for effective community planning to avert further ecological damage; the promotion of energy conservation; and how advances in smart technologies can help cities adapt to change.
The forum included three moderated panel discussions focused on:
Environmental justice and energy equality.
Energy technology solutions, options and impacts.
Building and powering sustainable cities.
Gina McCarthy, former Administrator of the U.S. Environmental Protection Agency (Barack Obama Administration), delivered a keynote speech on the importance of addressing climate change without letting partisan or political divisions get in the way. McCarthy is also Director of the U.S. Center for Health and the Global Environment, and Professor with the T.H. Chan School of Public Health at Harvard University in Cambridge, Massachusetts.
Guest speaker Kirsty Gogan, Co-Founder and Executive Director, Energy for Humanity (based in the United Kingdom and Switzerland), gave a presentation on how cities can transition to clean energy.
The forum also included a short student presentation by a team of Capstone students:
Celina Desbiens (Energy Systems Engineering)
Tyler Humphreys (Energy Systems Engineering)
Riyad Khan (Energy Systems Engineering)
Ryan LePage (Master of Arts in Criminology)
Zowie Vonkalckreuth (Energy Systems Engineering)
Dave Wotten (Energy Systems Engineering)
In their talk, entitled Living Beyond Carbon: The Future of Green Development, the students discussed their project, which included an analysis of energy demands and emissions within Oshawa and Clarington. They also presented the road map they developed for creating sustainable communities based on improvements to building design, heating systems, transportation, electrical systems, and community planning.
Quote
"The University of Ontario Institute of Technology was proud to host another successful Futures Forum, this time focusing on pressing issues such as energy supply and use, climate change, disaster preparedness, all of which cities need to address to ensure a smart and sustainable future. The event builds on the university's scope of research in this area, and advances the conversation about how our society can tackle these challenges."
-Douglas Holdway, PhD, Interim Vice-President, Research, Innovation and International, University of Ontario Institute of Technology
About the Futures Forum
By bringing together professors, researchers, students and the leaders of private, public and not-for-profit organizations, the Futures Forum builds on the University of Ontario Institute of Technology's broad base of work by synthesizing an institutional perspective and voice on current and future public-policy matters relating to the university's academic, research and innovation activities.
Previous Futures Forums:
2015: Advanced Manufacturing
2016: Smart Communities
2017: Community Mental Health and Wellness
2018: Energy and the Environment
Gallery