University's Game Development and Entrepreneurship students a level above the rest
Second-year team wins Technical Innovation Award at leading industry showcase
July 8, 2018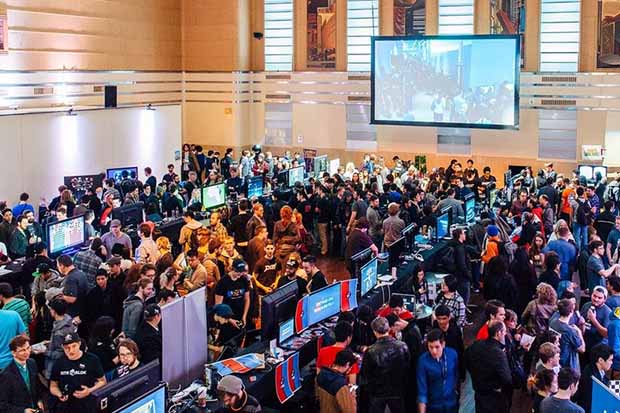 Game Development and Entrepreneurship (GDE) students at the University of Ontario Institute of Technology spend the academic year immersed in courses and labs where they learn all aspects of game design and development. Each April, the university sends a number of these talented students to the Level Up Student Games Showcase to show off their outstanding work in design, animation and computer graphics.
This year, 10 teams of first-, second- and third-year GDE students (55 in total) from the university participated in the eighth-annual Level Up event at the Design Exchange Centre in Toronto, Ontario. The event attracted more than 2,000 visitors, who were there to check out the games created by students from universities and colleges across Ontario.
While Level Up is primarily about exhibiting game development talent, the event also includes a competition, with games judged on various criteria.
The university's team Product of Primes took home the prestigious Technical Innovation Award for PRIMEOPS, their two- to four-player game about gearing up giant robots and battling in destructible cityscapes.*
Product of Primes team members (all second-year GDE students):
Danny Luk, Artist and Developer
Joss Moo-Young, Director and Developer,
Connor Smiley, Engine Programmer and Developer
Tom Tsiliopoulos, Tools Programmer and Developer
Jacky Yang, Sound Engineer and Developer
* Product of Primes plans to release PRIMEOPS to the market in the future. Contact info@productofprimes.ca to learn more.
The award has opened some new opportunities for the students: they were recently selected to attend a specialized virtual reality course in August at the Universidad Militar Nueva Granada (UMNG) in Colombia. Both University of Ontario Institute of Technology and UMNG faculty members will teach the course, which will focus on virtual reality and serious game development.
Product of Primes recently demonstrated their game to Level Up event sponsor Advanced Micro Devices (AMD) at AMD's Markham, Ontario head office. The team will continue development over the summer and will showcase PRIMEOPS at the Canadian National Exhibition (CNE) Gaming Garage, Friday, August 24 through Saturday, August 25. At Gaming Garage they may also have a chance to present their experience in game development education to industry representatives.
Quotes:
"The University of Ontario Institute of Technology's Game Development and Entrepreneurship program prepares students with an experiential curriculum focusing on the integration of technology, design, art and production in a game development context. We are incredibly proud of all of our hard-working students who showcased their creations at Level Up. Our winning team Product of Primes developed its own game engine completely from the ground-up, resulting in a game that is fun and exciting to play. Their dedication is an inspiration to all of our students."
- Andrew Hogue, PhD, Associate Professor and Program Director, Game Development and Entrepreneurship, Faculty of Business and Information Technology
"Game development is a wild ride. It's a test of skill, cunning, teamwork and will. But I love the challenge. Each day I encounter interesting, open-ended problems to solve in creative but practical ways. The Game Development and Entrepreneurship Program Director and professors push us hard to show us just how far we can go. The class size is small enough that everyone has a chance to interact directly with the faculty and each other. Together, we form a community where we can share ideas and grow as a unit."
- Joss Moo-Young, Director and Developer, Product of Primes
"As an engine programmer, at Level Up I quickly made friends with representatives from many big-name companies like Ubisoft, Microsoft and AMD. They were shocked to realize we wrote our game from scratch, whereas the vast majority of our competitors used commercial game engines, which eliminate the bulk of the workload. We stood out because the University of Ontario Institute of Technology is one of the few universities that teaches all phases of game programming, starting with the fundamental, low-level aspects. Had we gone to any other university, we would have been lost in the crowd. All of our professors and teaching assistants are so selfless, supportive and extremely knowledgeable—and I've had the pleasure of working closely with four of the most talented, driven second-year students in my program."
- Connor Smiley, Engine Programmer and Developer, Product of Primes
"Nothing motivated me to strive to greater heights in game development than to see other like-minded people at Level Up. It was a blast playing everyone's games and seeing people play yours. Unlike other game development programs, where you focus on one aspect of development and outsource the other roles, the University of Ontario Institute of Technology's Game Development and Entrepreneurship program immerses you in all aspects of development—gameplay, art and sound—which I believe helped our game stand out at this event."
- Jacky Yang, Sound Engineer and Developer, Product of Primes
"Level Up was an amazing experience. As an older student, it felt incredible to partner with a team of young game developers and future entrepreneurs. Winning the Technical Innovation Award was our dream—a culmination of eight months of hard work and many late nights. We also had a chance to meet several big names in the game industry, connect with other students and gamers, and gain insight from each other's experiences. We're already planning for the next Level Up!"
- Tom Tsiliopoulous, Tools Programmer, Developer, Product of Primes
Gallery