Incoming Class of 2022 Ignites this year's Orientation activities
Transition-to-university programming welcomes university's newest students
September 6, 2018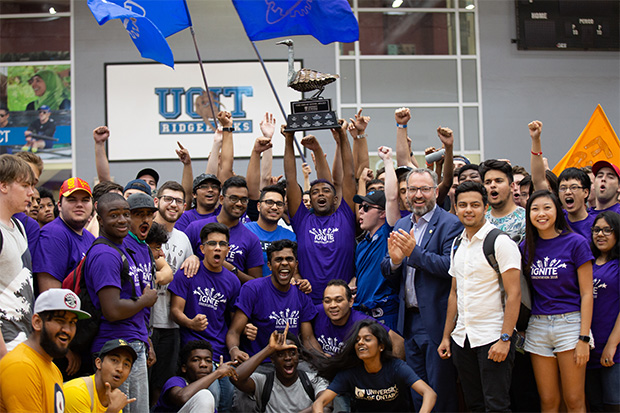 A new academic year arrived at the University of Ontario Institute of Technology with an amazing burst of energy on September 4 and 5.
Coinciding with the 15th anniversary of the university's opening (September 4, 2003), more than 2,000 first-year students took part in a wide range of campus-welcoming events that followed up on a summer-long series of First-Year Transition programs.
The university's Office of Student Life says participation rates in September Orientation activities continue to soar.
"The goal of Orientation is to make each new student immediately feel welcome in their new community," says Scott Dempsey, Manager, Student Engagement and Equity, Office of Student Life. "It's an exciting new chapter of their lives, and we are here to support student success right from the get-go. Finding your way involves learning about academic expectations, how to get involved, making new friends and knowing where to access the many services that are available, including academic support."
As is tradition, Orientation culminates with the Wild Goose Chase: an annual inter-faculty competition designed to help students learn the history of our university, familiarize themselves with the physical location of supports and services and start working together as a team. The coveted trophy, Stanley the Goose, was captured this year by students from the Faculty of Engineering and Applied Science.
Complementary orientation sessions also took place for international students, Indigenous students, students with disabilities, mature students, graduate students and college-to-university transfer students.  
Formal classes began September 6, the same day as the Get Involved Fair, a showcase of many of the student-led clubs and societies on campus.
This fall, university President Dr. Steven Murphy is championing a 'sticky campus' initiative, to encourage students to explore all they can do on campus outside of classes and labs. President Murphy will attend a Sports Day and BBQ event at Polonsky Commons on Monday, September 10 at the university's north location. At the downtown location on Wednesday, September 12, President Murphy will meet students at a Pizza Party on the Patio at the 61 Charles Street Building. Both events are being held in conjunction with the university's Student Union and the university's Department of Athletics.
Quick Orientation facts:
125 upper-year student volunteer peer leaders have completed two full days of job-specific training covering Access for Ontarians with Disabilities (AODA) customer service training, and the Mindsight mental health awareness online training module developed by Wendy Stanyon, PhD, Associate Professor, Faculty of Health Sciences.
Peer leaders will continue to act as mentors and resources for students who were assigned to them at Orientation to ensure the students stay connected and informed as they navigate their first year.
All peer leaders also complete the Respecting Individuals and Supporting Equity (RISE) program, a bystander intervention program designed specifically for students to foster a safe and inclusive campus community.   
All students take part in First Year Me, an interactive theatrical production written and developed by students and staff that discusses sexual assault, bystander intervention and consent, along with topics such as social anxiety, drug and alcohol use, academic integrity and inclusivity.
Dozens of staff, faculty and upper-year students take part in the Ask Me program. Volunteers station themselves in high-traffic areas on campus to answer questions and help students find their way around campus during their first few days of the semester.
About Orientation
The purpose of Orientation is to help introduce new students to the university community, and give them the information and tools they need to take their first steps as students. Students interact with peers, staff and faculty to build relationships that will be the foundation of their connection to the community, and their access points for support when they meet challenges during their studies.
For more information about Orientation, email askme@uoit.ca or call the Office of Student Life at 905.721.8668 ext. 3833.
Media contact
Bryan Oliver
Communications and Marketing
University of Ontario Institute of Technology
905.721.8668 ext. 6709
289.928.3653
bryan.oliver@uoit.ca