Powwow celebration highlights opening week of the new academic year
September 20, 2018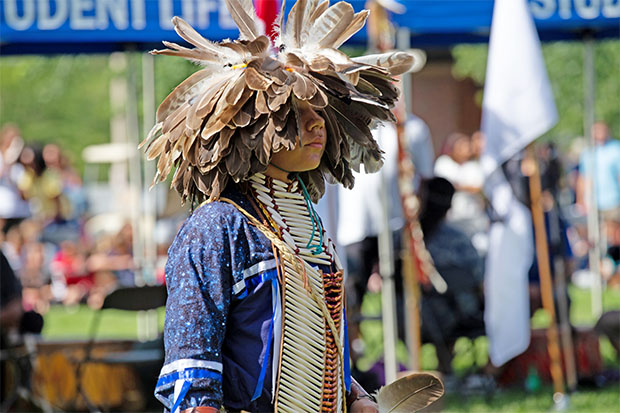 A large celebration of Indigenous music, dances, regalia, art, food and crafts capped the opening week of the new academic year at the University of Ontario Institute of Technology. As the university welcomed both new and returning students to campus, the green space of Polonksy Commons provided an impressive backdrop for a special Mini Powwow on September 7.
"The weather was perfect, and so was the energy level all afternoon," says Jill Thompson, Indigenous Cultural Advisor, Indigenous Education and Cultural Services (IECS). "Powwows symbolize enormous pride in Indigenous culture. It was fantastic to see students and people of all cultures from across the community come together to embrace our showcase."
A large crowd of faculty, staff and students from the University of Ontario Institute of Technology and Durham College, and 10 busloads of students from the Durham District School Board, watched Eagle Staff carrier Tom Cowie (Hiawatha First Nation) lead the Grand Entry to the beat of the drum. In Indigenous culture, the drum represents the heartbeat of Mother Earth. Two drum groups, the Ashunyung Singers from Georgina Island First Nation and the Eagle Heart Singers from Toronto, kept the beat throughout the Powwow.
Stan Janiga (Mississaugas of Scugog Island First Nation) carried the Mississauga Nation flag, while 2015 Forensic Psychology graduate Christopher Grol carried the university flag (Grol is now pursuing a master's degree at the university). Traditional Knowledge Keeper Rick Bourque was the Canadian flag carrier. Bourque was also one of the Powwow dancers.
Elder Merritt Taylor (Curve Lake First Nation) opened the Powwow, followed by welcomes from Dr. Steven Murphy (university President), Chief Kelly LaRocca (Mississaugas of Scugog Island First Nation), and Powwow organizers Jill Thompson and Carol Ducharme from IECS. The Master of Ceremonies was Paul Owl (Georgina Island First Nation) and Arena Director was Meegs Snake (Aamjiwnaang First Nation).
Dancers came from the Mississaugas of Scugog Island, and as far away as the Kingston, Ontario area. The head female dancer was Kim Muskratt (Hiawatha First Nation) and the head male dancer was Norm Coleman (Oshawa, Ontario). The regalia worn by each dancer tells the story of their culture and journey through life.
Contemporary Powwows began on the Great Plains and have grown in size, number and popularity since the 1950s. Until 1951, the Government of Canada prohibited Powwows. Canada's 1876 Indian Act restricted Indigenous peoples' right to conduct cultural and spiritual ceremonies and wear traditional outfits.
The University of Ontario Institute of Technology is proud to have hosted this Powwow as part of its efforts to support reconciliation and promote education about Indigenous organizations and community partners. The university hopes to make the Powwow an annual event.