Students bring big ideas to life
Student Research Showcase emblematic of the university's student experience
September 17, 2018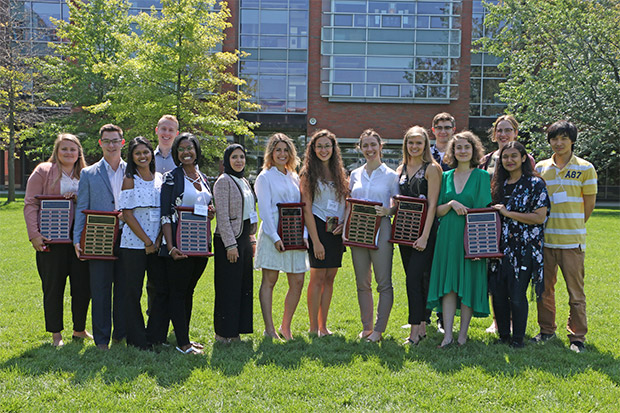 Highlighted by themes of everything from artificial intelligence to wrongful convictions, dozens of University of Ontario Institute of Technology students shared their research discoveries, practical ideas and conclusions in August during the annual Student Research Showcase (SRS).
Through participation in the SRS students demonstrate their knowledge, enhance their research capacity working alongside professors, and hone their presentation skills.
Many of this year's 53 posters received funding from the Natural Sciences and Engineering Research Council of Canada (NSERC), and the university. Entries were evaluated by faculty members, university instructors and external judge John Hayden, Manager, Enterprise Programs, Northumberland Community Futures Development Corporation (CFDC). One Best Poster Award was presented for each of the university's seven faculties.
This year's guest speaker Markus Piro, PhD, Canada Research Chair (Nuclear Fuels and Materials) and Professor, Faculty of Energy Systems and Nuclear Science, presented recent research findings on emerging nuclear technologies.
Quote
"Undergraduate research opportunities are a key aspect of the student experience at the University of Ontario Institute of Technology; in fact, it's part of our DNA. There's no better way to apply academic knowledge than having a chance to work alongside academics, industry, community and government professionals. The Student Research Showcase underpins the value of hands-on learning. Students gain vital skills in critical thinking, communication, teamwork and professional development. These qualities make our graduates workforce-ready the minute they have their degree, and sometimes before that. Employers know they are hiring talented and enthusiastic students who have already rolled up their sleeves in a research setting and who are prepared to tackle and solve real-world challenges."
-Jennifer Freeman, Director, Office of Research Services, University of Ontario Institute of Technology
External participants
Internal participants
Background information
More than 85 per cent of our undergraduate students participate in experiential learning opportunities offered at the university.
The university's 

Office of the Vice-President Research, Innovation and International

supports the SRS.
The university provides both undergraduate and graduate students with an enriched and distinctive learning experience that comes from being part of a dynamic research community.
The university recognizes the opportunity to take part in research and share in critical discoveries at an early stage of student development is an important aspect of the university experience.