University celebrates 2018 entrance scholarship recipients
September 18, 2018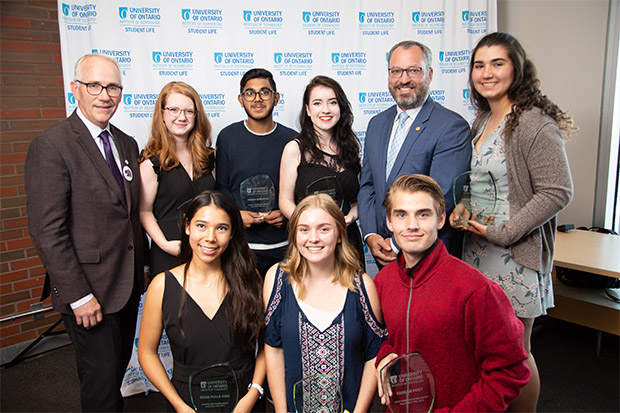 At the University of Ontario Institute of Technology, our students know where they want to go. Each year, the university rewards seven outstanding incoming students with its most prestigious entrance scholarships.
The scholarship program serves to recognize secondary school students for exceptional achievements in academics, leadership and community involvement throughout their high school career.
Major Entrance Scholarships

Chancellor's Scholarship – one valued at $36,000 ($9,000 a year x four years)
President's Scholarship – two valued at $30,000 each ($7,500 a year x four years)
Founder's Scholarship – two valued at $24,000 each ($6,000 a year x four years)
FIRST Robotics Canada Scholarship – one valued at $12,000 ($3,000 a year x four years)
International Global Leadership Award – one valued at $72,000 ($18,000 a year x four years)
This year's Chancellor's Scholarship recipient is Tessie Pulla-Chin (Nursing) of Oshawa. Choosing the university for its small class sizes and various experiential learning opportunities, Tessie is ready to immerse herself in the full university experience.
"This award means being able to go to university without the stress of student debt constantly looming over my head," says Tessie. "It also means I will not have to work as many hours during the year, which will give me more time to learn and study."
The 2018 President's Scholarship recipients are Erin Mattes (Forensic Psychology) of Whitby and Cristianna Giallo (Biological Science) of Toronto. Both students chose the university for its innovative learning opportunities and inviting atmosphere.
"Becoming a recipient of the President's Scholarship is an incredible honour and it means the absolute world to both myself and my family," says Erin. "It means that my university invested in my abilities and welcomed me into their community with open arms."
"This will help me accomplish my goal to become a medical officer in the armed forces and serve our country, as I will have been able to attend a university that has provided me with the knowledge I will require in medical school," says Cristianna.
The Founder's Scholarship recipients are Hannah Oegema (Commerce) of Bowmanville and Courtney Lockhart (Health Science) of Victoria Harbour. Hannah selected the university because she believes it will be the perfect environment to challenge her on the road to success. Courtney chose the university for its hands-on learning opportunities, small class sizes and advanced technology.
"The environment of the university is based on helping students succeed," says Hannah. "Whether it be the great research opportunities or the exciting student life, the university offers much more than I could ever hope for."
"When touring the university, I was very impressed with the community feeling I got from the faculty and current students," says Courtney. "I highly value a sense of community and feel that attending a school that offers this will help me thrive."
Rounding out this year's domestic recipients is our FIRST Robotics Canada Scholarship recipient, Keegan Post (Nuclear Engineering) of Oshawa. Choosing the university for its unique nuclear engineering program, internship opportunities and proximity to home, Keegan knew this would be the best school to build his career.
"The skills I will acquire from the university through training programs that have been engineered specifically by local nuclear engineers, will prepare me to be a valuable team player in generating new ideas for energy sources," says Keegan.
The international Global Leadership Award recipient is Aiman Quraishi (Electrical Engineering) of Doha, Qatar. Aiman chose the university for its cutting-edge programs, innovation and commitment to equipping students with the skills needed to succeed in an ever-changing workforce.
"Achieving this scholarship gave me the confidence to take the next step in my academic career," says Aiman. "It provides me with the financial respite to pursue a higher education, as well as validation for all the hard work required to achieve academic excellence,"
"Entrance scholarships are a perfect way for us to show two things to great students who have chosen the University of Ontario Institute of Technology," says Robert Bailey, PhD, Provost and Vice-President, Academic. "These scholarships not only recognize their past achievements, they also express our confidence in their future academic leadership in our university community."
2018-2019 major entrance scholarship recipients (including faculty and high school):
| | | | | | |
| --- | --- | --- | --- | --- | --- |
| Award | Name | Faculty | Program | Hometown | High school |
| Chancellor's Scholarship | Tessie Pulla-Chin | Faculty of Health Sciences | Nursing | Oshawa | Monsignor Paul Dwyer Catholic High School |
| President's Scholarship | Erin Mattes | Faculty of Social Science and Humanities | Forensic Psychology | Whitby | Sinclair Secondary School |
| President's Scholarship | Cristianna Giallo | Faculty of Science | Biological Science | Toronto | Bishop Allen Academy |
| Founder's Scholarship | Hannah Oegema | Faculty of Business and Information Technology | Commerce | Bowmanville | Holy Trinity Catholic Secondary School |
| Founder's Scholarship | Courtney Lockhart | Faculty of Health Sciences | Health Science | Victoria Harbour | Georgian Bay District Secondary School |
| FIRST Robotics Scholarship | Keegan Post | Faculty of Energy Systems and Nuclear Science | Nuclear Engineering | Oshawa | Eastdale Collegiate and Vocational Institute |
| Global Leadership Award | Aiman Quraishi | Faculty of Engineering and Applied Science | Electrical Engineering | Doha, Qatar | Ideal Indian School |
For information on applicant criteria for each award, visit the university's scholarships web page.
---
About Ontario Tech University
A modern, forwarding-thinking university, Ontario Tech advances the discovery and application of knowledge to accelerate economic growth, regional development and social innovation. We inspire and equip our students and our graduates to make a positive impact in a tech-focused world. For us, it's not only about developing the next tech breakthrough. Understanding and integrating the social and ethical implications of technology differentiates us as university. Learn more at ontariotechu.ca.