University celebrates student leadership
September 25, 2018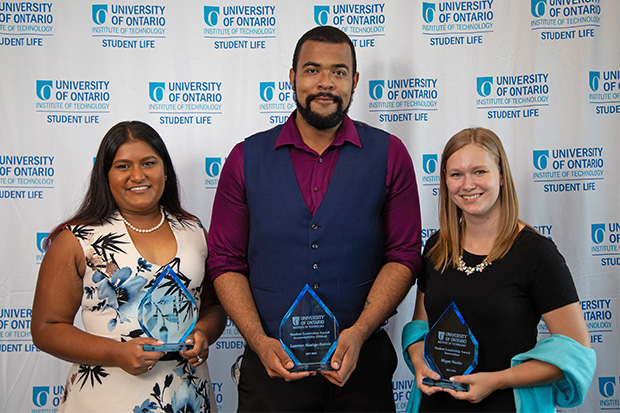 University students spend many hours immersed in classes and labs as they prepare for a successful future. But what students do outside the classroom can make a lasting impression in the community.
On September 12, the University of Ontario Institute of Technology celebrated students who demonstrate exemplary leadership practices aligning with the university's values. Family, friends and the university community gathered to honour students for their positive contributions to the university at a ceremony for the President's Award of Excellence in Student Leadership, as well the Student Leadership Awards.
Hamdi Jimale, Forensic Psychology, class of 2018, for her inspiring leadership both on and off campus.
The university presented one Student Leadership Award in each of the following categories:
Accountability: Lawrence Akintoye-Bentola, Master of Arts in Criminology, class of 2018

Honourable mention: Kyra Cabrera, Health Science, class of 2019
Community Building: Marissa George, Communication and Digital Media Studies, class of 2018

Honourable mentions:

Azkah Waseem, Criminology and Justice, class of 2019
Alyssa Williams, Biological Science, class of 2020
Innovation: Megan Weales, Communication and Digital Media Studies, class of 2018

Honourable mentions:

Kelcieya Ratnarajah, Criminology and Justice, class of 2018
Kenneth Clarke, Biological Science, class of 2018
Respect: Hafsah Hoda, Biological Science, class of 2018

Honourable mentions:

Vivian Lieu, Criminology and Justice, class of 2018
Sukhman Sahota, Health Science, class of 2019
Quote:
"Congratulations to this year's award recipients. The University of Ontario Institute of Technology proudly celebrates all of these students for making valuable contributions to their communities and demonstrating their commitment to citizen leadership."
-
Olivia Petrie
, Assistant Vice-President, Student Life, University of Ontario Institute of Technology