Strength in diversity: How graduate students are countering the ideology of hate
Criminology students embrace global campaign to counter negative and stereotypical narratives
November 2, 2018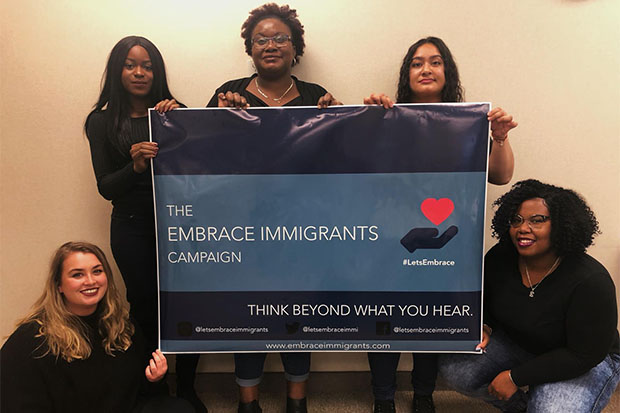 In an increasingly polarized world where hate crimes and extremist political views are gaining deeper entrenchment, two groups of graduate students at the Ontario Tech University are taking a powerful stand against anti-immigration hate speech and right-wing extremism.
The Master of Arts in Criminology students in the Faculty of Social Science and Humanities are generating counternarratives through two online campaigns: Embrace Immigrants and Better Together.
The projects are inspired by Facebook's Peer to Peer (P2P) Global Digital Challenge where university students create social media campaigns and offline strategies to challenge hateful and extremist narratives (to date P2P has reached more than 200 million people).
Embrace Immigrants' first objective is to educate the community by deconstructing common anti-immigration stereotypes and replacing them with researched-based responses. The second is to re-humanize the immigrant experience by creating a counternarrative through stories shared in an anonymous questionnaire.
"It is important for the silent majority to embrace this type of campaign," says Madison Charman, Project Manager, Embrace Immigrants. "Hate speech is becoming normalized. Right-wing extremism is a form of terrorism. We can inspire positive change by calling out individuals who use dangerous rhetoric for political gain and those who work it into their policies and politics. We can also educate individuals buying into this rhetoric without thinking critically or making themselves informed."
Better Together's Taha Ibaid says his group counters an ideology that being Canadian means belonging to one race, speaking one language, and being defined by one common sexual orientation.
"There are endless ways to be Canadian and we need to counter any perception that diversity is dangerous," says Ibaid. "There is a false notion that by accepting other cultures, we are replacing our own. If we let the unwarranted fear of other cultures prevent us from being the great multicultural nation that we are, we lose a significant part of what makes us special."
Better Together participants are also encouraged to share creative submissions on what it means for them to be Canadian.
Did you know?
In the last 20 years, there have been more than 120 incidents related to right-wing extremism in Canada, including homicide, assault, attempted homicide, extortion, death threats, property damage and conspiracy. In the same period, there were seven Islamic-related incidents.
As of 2015, there were 20 active right-wing extremist groups in Ontario. Following the rise of right-wing populism and the alt-right movement in the wake of the 2016 U.S. election, it is believed the movement in Ontario has expanded.
More information:
@LetsEmbraceImmi, FB: @LetsEmbraceImmigrants
@WeAreTogetherCA, FB: @bettertogethercanada
Gallery