University of Ontario Institute of Technology and Durham College announce interim smoke-free policy
Campuses become smoke-free effective Monday, October 15
October 12, 2018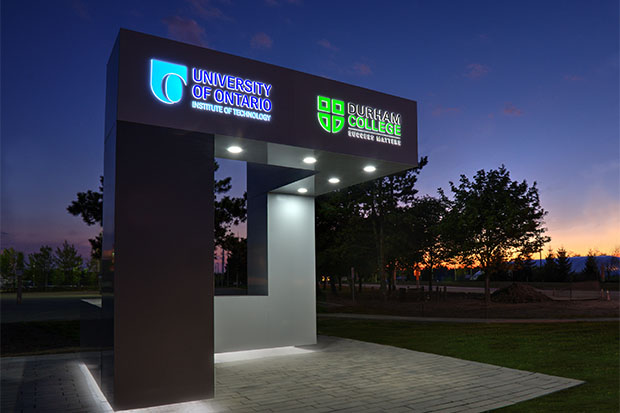 OSHAWA, ONTARIO – The health and safety of the University of Ontario Institute of Technology's and Durham College's (DC) campus communities are of the utmost importance. With this in mind, both institutions are introducing an interim smoke-free campus policy.
As of October 15, smoking and/or vaping of any type, including tobacco, cannabis and shisha, is prohibited anywhere on the shared north Oshawa campus, DC's Whitby campus and the university's downtown campus location. This includes all student residences. The policy applies to all members of the campus community, including students, faculty, staff, visitors and contractors.
The university and college have discussed becoming smoke-free for more than a year, sharing a concern about the well-known risks and negative impacts of second-hand smoke. Given Canada's legalization of recreational cannabis use on Wednesday, October 17, and the Government of Ontario's introduction of Bill 36, the Cannabis Statute Law Amendment Act, 2018 (allowing cannabis smoking wherever tobacco is permitted), it was determined a smoke-free policy was needed.
With a goal of having the permanent policy in place in early 2019, consultations with the campus community will begin shortly to understand its potential impact.
It is understood many people will have questions during this adjustment period. The traditional burning of substances that form a part of Indigenous culture and heritage such as tobacco, sweetgrass, sage, and cedar, among others are exempt from the university's and college's smoke-free policy. The institutions will also work with those requiring accommodations for medical cannabis prescriptions to develop an individualized plan to accommodate their needs.
More information about the interim policy, next steps, support resources and FAQs are available on each institution's website:
Quotes
"As an institution of higher learning it is imperative that we live our values. We desire a community where we can study, work and play in a healthy environment for mind and body. Over the next few months we will consult with all campus stakeholders to ensure all resources for students, faculty and staff are in place as we build a permanent smoke-free policy."
-Steven Murphy, President and Vice-Chancellor, University of Ontario Institute of Technology
"With the announcement of our smoke-free campus, Durham College and the university are joining over 65 other institutions across Canada in placing an imperative on wellness. I am proud of the leadership role we have taken in providing a healthier environment for our students, employees and the broader community. As we begin the process of changing behaviours on campus, we are also working to provide additional support through educational programs and resources, as this new policy guides the college towards a cleaner future." 
-Don Lovisa, President, Durham College
Media contacts

Bryan Oliver
Communications and Marketing
University of Ontario Institute of Technology
905.721.8668 ext. 6709
289.928.3653 (mobile)
bryan.oliver@uoit.ca
Meghan Ney
Communications and Marketing
Durham College
905.721.2000 ext. 2197
289.688.2776 (mobile)
meghan.ney@durhamcollege.ca