A film with a twist: ACE screens a movie in '4D'
Climatic Wind Tunnel's weather-generating capability blows audience away
November 7, 2018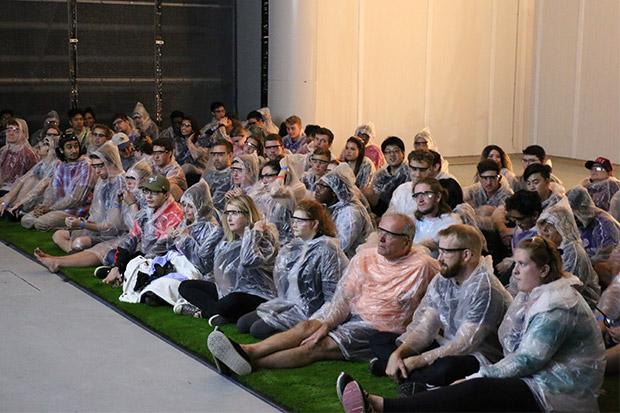 From shaking seats to extended low-frequency sound effects ('Sensurround') to 3D glasses enhancing the illusion of depth perception, film producers have tried many different physical techniques over the years to amplify the experience of watching a film.
At the University of Ontario Institute of Technology, the ACE Climatic Wind Tunnel recently hosted a screening of the 1996 disaster film Twister that took the cinematic experience in a new 'fourth' dimension. It figuratively took everyone by storm.
During Orientation Week, students, faculty, staff and guests were treated to ACE's first-ever 4D 'movie in the park' event in the wind tunnel. Participants wore rain coats and goggles as they sat back, relaxed and experienced Twister like never before.
"This is something you don't see at any other Orientation events," says one  first-year student. "It got me really excited about starting at the University of Ontario Institute of Technology this year. I'd definitely come to more movies at ACE."
For an audience that would normally not have the opportunity to visit the ACE Climatic Wind Tunnel, the screening was a huge hit. As the tornadoes swirled on the screen, the Climatic Wind Tunnel blasted the audience with driving rain and 70 km/h wind. It is safe to say many were shocked by how realistic the experience was when the storm clouds arrived.
"This event was amazing; I've never experienced anything like this before!" says student Natalie Shears, a member of the Engineering Society. "It was like I was a part of the movie. It felt so real!"
ACE organized the 4D movie event to better-inform the university community about the state-of-the-art wind tunnel by demonstrating how it can deliver any conceivable weather condition at a moment's notice. ACE's amazing capacity to provide the best dynamic testing environment attracts researchers and industries from around the world.
ACE plans more community events like the 4D movie in the coming year.
Follow ACE on social media to make sure you don't miss the next 4D cinematic experience.
ACE links
Gallery