University celebrates excellence in graduate student supervision
December 17, 2018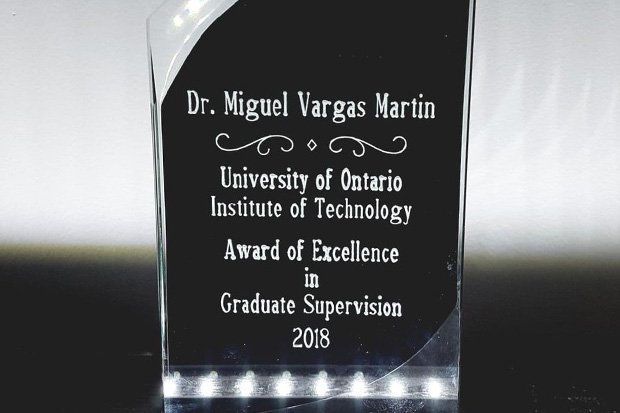 Working on a master's degree or PhD in graduate school culminates a student's relentless pursuit and inquiry into a single topic that generates new knowledge. Much of the work is independent and self-directed. At the same time, a grad student must be prepared to be challenged by others to help them shape their newfound expertise.
Integral to the entire cycle of graduate studies is the degree candidate's connection to a member of the university's faculty: a 'graduate supervisor', someone who supports them even before their arrival at the university. This supervision is an additional academic task professors perform in addition to their research work and teaching commitments.
Many prospective graduate students will connect with a potential graduate supervisor before submitting an application. The supervisor may then advocate for them during the admissions process. Supervisors will often note a shared research interest while reviewing applications for admission and connect with the student.
Graduate student supervisors provide invaluable mentorship and guidance to a degree candidate throughout their program. The supervisor promotes timely completion of the thesis and encourages career development by offering leadership and support in academic matters such as publishing, presenting, and applying for funding. Even after graduation, many supervisors stay in touch with former students, providing networking opportunities and valuable career advice.
The supervisor's interpersonal skills also play a major role in ensuring student success. They must be available for regular engagement and consultation, deliver high-quality and timely guidance and feedback. They need to respond to student needs, and help drive the student's enthusiasm for the pursuit of knowledge.
Inaugural award for excellence established in 2018
At its recent Award of Excellence in Graduate Supervision reception, the University of Ontario Institute of Technology's School of Graduate and Postdoctoral Studies celebrated faculty members who have demonstrated outstanding commitment to the graduate students they supervise.
The Award of Excellence in Graduate Supervision was established this year to recognize faculty members who have displayed excellence in the mentorship and supervision of graduate students at the university. To be considered for the award, excellence is judged on the quality of supervision and mentorship that inspire graduate students to become successful scholars and professionals.
Eight faculty members representing five faculties received nominations from peers and graduate students for the award. Miguel Vargas-Martin, PhD, was this year's recipient. One nominator described Dr. Martin's supervision: "His passion to share his expertise with students, his generosity in fostering students' intellectual and professional development, his ability to create a challenging yet comfortable work environment for his students, and his treatment of students with respect, kindness and patience make Dr. Martin an ideal candidate for the Award of Excellence in Graduate Supervision."
Congratulations to all faculty members recognized with nominations (selected nominator comments embedded with each name):
*denotes 2018 winner
Related links: