Mechanical Engineering student helping seek sustainable clean water solutions in east Africa
Yasin Othman explains entrepreneurial startup Rootworks' The Water Project
January 18, 2019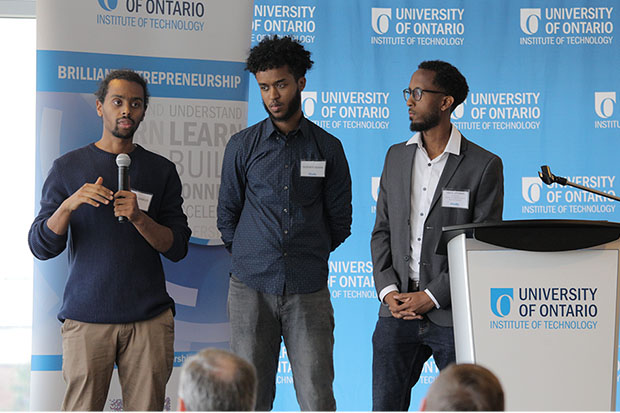 It all began in March 2017 with three university students in Ontario making plans for an ambitious homecoming road trip across Africa. The group, including University of Ontario Institute of Technology Mechanical Engineering student Yasin Othman, talked about a north-south journey of some 7,000 kilometres from Somalia to South Africa.
"The original idea was to go through countries like Ethiopia, Kenya and Tanzania, go on safaris, explore and do some fun, touristy things," says Othman, now in the fourth year of his studies. "But prior to going, we learned that in Somalia and Ethiopia, there is a drought resulting in an impending famine. Some 15 million people, mostly women and children, are severely food-insecure because of something as simple as having no water. Being originally from Somalia and Ethiopia, we couldn't justify splurging on tourism without doing something to help."
So with a shoestring budget, they decided to spend their money instead on used camera equipment to film a documentary in the fall of 2017 about water issues in their African homeland. Their film creation, The Water Project, will premiere on screen in downtown Toronto Sunday, January 27 at Daniels Spectrum Ada Slaight Hall (585 Dundas Street East, east of Parliament Street). Tickets are $20, with proceeds going toward future sand dams.
"Through a 'GoFundMe' effort, we raised nearly $4,000 to buy the gear we needed," says Othman. "I decided to take the Fall semester off and a gap year to travel. We spent three months in the two countries interviewing locals, foreign aid organizations and communities about what we can do to help them in a sustainable manner. We believe we've found some of those answers."
After coming back to Canada, they realized they had become de facto social enterprise entrepreneurs on the cusp of forming a startup business. The trio would go on to form Rootworks, a non-profit aiming to provide long-term access to clean water for rural communities in Somalia and Ethiopia.
"Our solution involves building sand dams: structures capable of capturing
millions of litres of water at a fraction of the cost of traditional wells," explains Othman, Rootworks Co-Founder. "Today, communities dispatch people (often women and children) on eight-hour round trips on-foot to obtain water. Sand dams can provide 1,000 people with enough drinking water for one year without rainfall."
Rootworks also tapped into Brilliant Catalyst, the university's on-campus 'collaboration and idea collision' space that helps fledgling organizations connect with mentors to accelerate their businesses.
"Brilliant Catalyst helped us network and its team of experts provided countless hours of invaluable advice on all things, from finances to legal matters and networking strategies. Brilliant helped us access $3,000 in grants from the university's Firefly Fund. We also won $2,000 at a Brilliant pitch competition. Brilliant's summer incubator also provided us with a framework to become a viable organization and operate as a business."
The Water Project documentary showcases how Rootworks' solution now affords children with time to attend school, rather than travelling daily to find water. Women can spend more time on income-generating activities.
"We are tackling the issue of water at its root. Many existing aid organizations are reactive to drought only temporarily to prevent famine by providing food and water aid. But this approach has proven unsustainable and ineffective due to the repetitive nature of droughts."
Sand dam projects are slated to begin in September 2019.
"Our philosophy is to help communities help themselves. Communities will help us and will provide labour to build sand dams. We fund the raw materials and educate the locals on how to maximize water use and farm effectively through rainwater harvesting technologies. We believe our work has the potential to end poverty in these regions and provide communities a chance to settle, grow and thrive."
---
Media contact
Bryan Oliver
Communications and Marketing
Ontario Tech University
905.721.8668 ext. 6709
289.928.3653
bryan.oliver@uoit.ca