Social media links researchers in 50 countries to one global study of the world's streams
University's Dr. Andrea Kirkwood connected to global benchmark experiment
January 30, 2019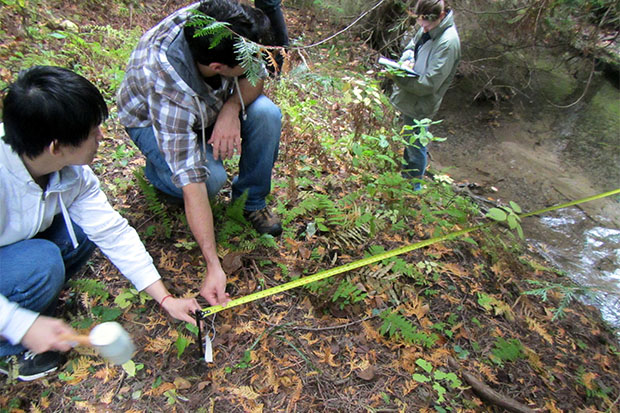 For all of social media's pros and cons, it's hard to envision another way a U.S. biologist could find more than 150 researchers from around the globe to simultaneously help answer an important environmental research question: How important is location and climate in the decomposition of plant material?
Decomposition is an important component of the carbon cycle, which helps to remove waste and recycle nutrients back into the environment to sustain life.
In 2014, University of Ontario Institute of Technology biologist Andrea Kirkwood, PhD, noted a crowdsourcing call for researchers to help collect environmental data from stream ecosystems, something very much in her research wheelhouse.
"It was a natural connection for our research team to participate in the project because we do so much work in streams, particularly in urban areas," says Dr. Kirkwood, Associate Professor of Biology in the university's Faculty of Science, and leader of the Kirkwood Lab. "This was a novel and consistent approach to standardize the measurement of decomposition rates in streams and riparian zones (plant habitats adjacent to streams) around the world."
Streams can receive a variety of organic debris depending on the biome they flow through, such as deciduous forests or grassland prairies.
"A global study across biomes and climatic regions allowed for the simultaneous collection of decomposition data using one type of plant-based cellulosic material: cotton strips," says Dr. Kirkwood.
The Cellulose Decomposition Experiment (CELLDEX) led by Dr. Scott Tiegs at Oakland University in Rochester, Michigan was conducted in temperate regions during the fall, as well as tropical and alpine regions to cover a range of local climates.
Cotton strips and temperature loggers were placed in four Durham Region headwater streams during the fall of 2015. The cotton was retrieved after 30 days, dried and prepared in the Kirkwood Lab, and then sent to Oakland University for analysis.
CELLDEX study findings
The data quantified decomposition rates in more than 500 streams representing every continent. Beyond confirming how temperature and moisture influence carbon-cycling rates and the functioning of local food webs, the paper notes how decomposition rates are increasingly affected by human activities.
"CELLDEX provides valuable baseline data that shows the important role of climate in controlling decomposition rates, regardless of ecosystem location," says Dr. Kirkwood. "This information can be used to forecast the large-scale ecological responses to global warming and other dimensions of climate change."
The findings are published in the January 2019 issue of the Science Advances journal.
Gallery
---
Media contact
Bryan Oliver
Communications and Marketing
Ontario Tech University
905.721.8668 ext. 6709
289.928.3653
bryan.oliver@uoit.ca