Tuition reductions will help students with education affordability
University looks for new ways to do things differently and maintain a quality student experience
January 18, 2019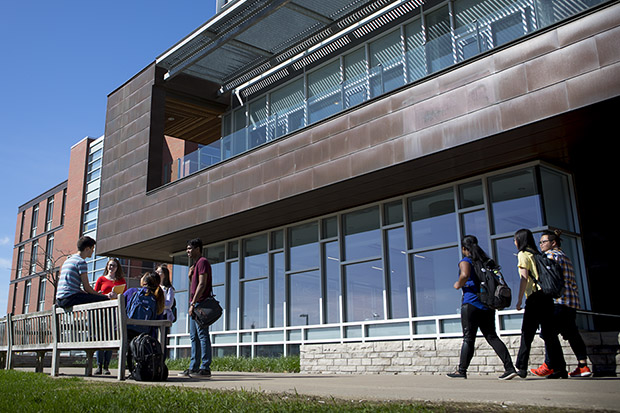 The Ministry of Training, Colleges and Universities (MTCU) yesterday announced a 10 per cent tuition reduction. The university recognizes this change as a positive step in improving education accessibility for Ontario's university students while balancing the provincial government's fiscal challenges. The tuition reduction will come into effect for the 2019-2020 academic year with a freeze in the following year.
"I'm very proud of our exceptional faculty and staff, and their commitment to providing our students with a high-quality learning experience," says Dr. Steven Murphy, President and Vice-Chancellor. "We know the MTCU's announcement will create new challenges for us, but the university was founded with a mandate to do things differently by being innovative. And, during our brief history, we've demonstrated new ways of thinking that can be disruptive, more efficient, and enhance the quality of education. We need to look at this as an opportunity to build on the quality learning experiences we provide for our students."
The university will further assess the impacts of the changes announced as details become available, particularly OSAP and student fees. The university is committed to policies that guarantee student assistance to those most in need. It is also committed to ensuring that fees are transparent while facilitating a relevant and dynamic broader learning environment.
Concurrently, the university launched a new initiative that encourages campus community members to explore and share innovative ideas, which will help the university realize efficiencies.
"We're open to any new ideas that can help us be more resourceful in providing students with the supports and services they rely on. We're working on a new mobile app for the university, which can help reduce red tape and simplify processes, making it easier to provide everyday services to students, faculty, staff, and visitors to our campus. We're committed to finding ways to thrive through this latest challenge," says President Murphy.
---
Media contact
Bryan Oliver
Communications and Marketing
Ontario Tech University
905.721.8668 ext. 6709
289.928.3653
bryan.oliver@uoit.ca