Dr. Lori Livingston appointed university's new Provost and Vice-President, Academic
February 28, 2019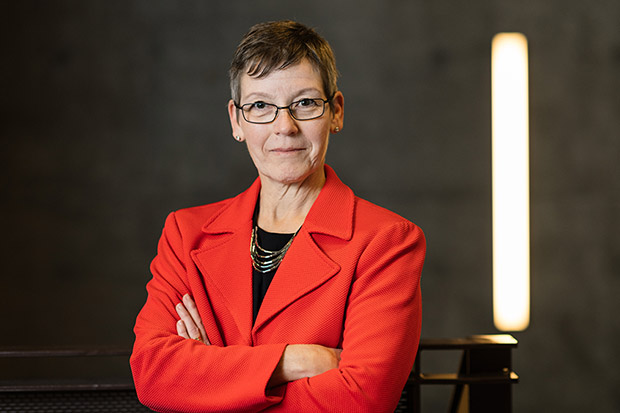 The University of Ontario Institute of Technology has announced the appointment of Dr. Lori Livingston as its Provost and Vice-President, Academic effective no later than July 1, 2019.
Dr. Livingston has served as the university's Dean of the Faculty of Health Sciences since 2015.
Dr. Livingston is a noted university administrator and scholar, whose research has spanned a broad range of topics including computer-based learning, the human-computer interface, clinical biomechanics, and most recently her Social Sciences and Humanities Research Council (SSHRC)-funded research program in the area of sport officiating. 
Prior to joining the university she served as the Dean of the Faculty of Health and Behavioural Sciences at Lakehead University (Thunder Bay, Ontario) from 2009 to 2015. Her administrative appointments have also included a stint as the Director of the School of Health and Human Performance at Dalhousie University (Halifax, Nova Scotia) from 2000 to 2007. She was also the Chair of the Department of Kinesiology and Physical Education at Wilfrid Laurier University (Waterloo, Ontario) where she began her academic career in 1991.
She received her PhD in Educational Psychology from the University of Calgary. She also earned her Master of Science in Biomechanics and a concurrent Bachelor of Arts (Biology)/Bachelor of Physical and Health Education (with distinction) from Queen's University (Kingston, Ontario).    
She has held a number of leadership positions, including terms as the President of the Canadian Association of Health Sciences Deans (CAHSD) and the Canadian Council of University Physical Education and Kinesiology Administrators (CCUPEKA). She also served as a member of numerous boards of directors, including the Northern Ontario School of Medicine and the NorWest Community Health Centres (Thunder Bay).
In addition to her academic successes, Dr. Livingston is a former national team coach and leader in women's field lacrosse, and a former university varsity athlete in the sports of ice hockey and field hockey. Involvement in sport and physical activity has always been one of her passions, and she continues to contribute back to sport through her research endeavours. 
Quotes
"We are pleased to have Dr. Lori Livingston serve as the university's Provost and Vice-President, Academic. The search committee and I were extremely impressed by Lori's stellar academic administrative career, her professionalism and her authenticity. We look forward to having her lead our academic enterprise at this exciting time in the university's evolution."
-Dr. Steven Murphy, President and Vice-Chancellor
"I am deeply honoured to be appointed to this position at such an important time in the University of Ontario Institute of Technology's history. I look forward to working with all members of the university community to provide our students with the best possible education, and ensuring that our institution becomes a leader in Ontario's higher education sector. We have so much potential and so much to give to our community through teaching, research, and civic engagement."
-Dr. Lori Livingston, incoming Provost and Vice-President, Academic
---
Media contact
Bryan Oliver
Communications and Marketing
Ontario Tech University
905.721.8668 ext. 6709
289.928.3653
bryan.oliver@uoit.ca