Dr. Carolyn McGregor's AI big data analytics platform to assess human performance in any weather condition
New project will use ACE's extreme-weather climate chambers in support of new defence research
February 15, 2019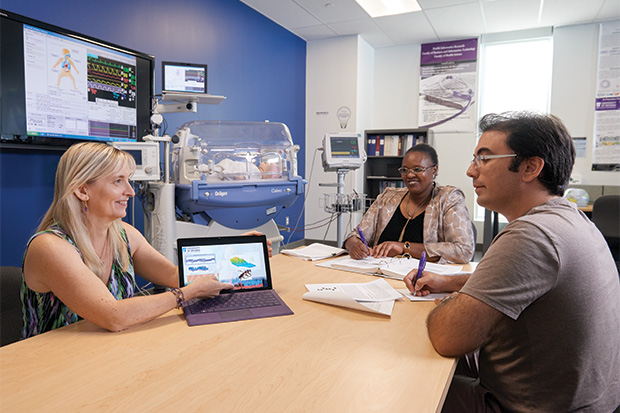 Military service requires periods of high-intensity activities and sometimes involves making life-threatening decisions. Deployments can require personnel to work in environments with extreme climatic conditions.
At the University of Ontario Institute of Technology, the influential high-end ACE research and development centre features various large chambers where researchers and industry leaders can assess new products and human performance capacity in every conceivable weather condition: everything from Arctic blizzards to searing desert heat. ACE also houses one of the most sophisticated and largest climatic wind tunnels on the planet.
One of the newest studies underway at ACE involves a Department of National Defence (DND) research contract awarded under the Innovation for Defence Excellence and Security (IDEaS) Program. The study to demonstrate pre-deployment acclimation strategies and techniques in extreme environments is being led by international health informatics expert Carolyn McGregor, AM, PhD, Research Excellence Chair in Health Informatics, and Professor with the university's Faculty of Business and Information Technology .
"We are aiming to meet the challenge of assessing human resilience and performance in the range of extreme climatic conditions military personnel might face in the field," says Dr. McGregor, a two-term Canada Research Chair in Health Informatics. "We want to understand how they are individually adapting to the extreme conditions, be it 45 or 50 degrees Celsius (before humidity is added to generate an even higher humidex) or a wind chill of minus 40 or colder. The health informatics data we collect using the artificial intelligence (AI) computing platform I've developed will hopefully set the stage for repeatable larger-scale studies in the future."
Dr. McGregor's groundbreaking research combines big data analytics, real-time 24/7 stream processing of patient data, cloud computing, temporal data mining and deep learning. Her AI platform Athena integrates and analyzes high-frequency physiological data such as heart rate and breathing rate, with climatic conditions and activity information for tactical operators, firefighters and even astronauts.
Athena is an extension of her internationally award-winning Artemis platform for critical-care medicine applications, both on-site and in remote locations. First used to monitor neonatal intensive-care infants, Artemis' advanced digital infrastructure leverages predictive analytics, AI and streaming data to help physicians make better, and faster, health-care decisions.
Related links:
---
Media contact
Bryan Oliver
Communications and Marketing
Ontario Tech University
905.576.6551
6709
bryan.oliver@uoit.ca