Three Ridgeback student-athletes representing Canada at the FISU Winter Universiade in Russia
Hockey players are the university's first athletes to attend a Winter Universiade
February 22, 2019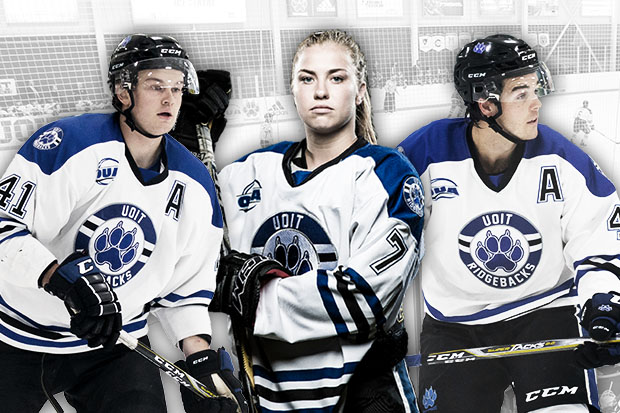 Three members of the University of Ontario Institute of Technology varsity hockey program will wear Canada's maple leaf in the coming at weeks at the FISU (International University Sports Federation) Winter Universiade in Russia (March 2 to 12).
Jack Patterson (Bedford, Nova Scotia) and Alex Yuill (Wellington, Ontario) will join the Canadian men's hockey team, while Kassidy Nauboris (Brampton, Ontario) will lace up for the women's hockey squad.
Inaugurated in 1959, Universiade is a biennial international multi-sport competition for full-time athletes in post-secondary institutions.
Quote
"To have three players representing not only their teams and the University of Ontario Institute of Technology, but also their country on the world stage: that's an incredible achievement. We're extremely proud of all three student-athletes and wish them the best of luck in Russia."
-Scott Barker, Athletics Director, University of Ontario Institute of Technology