University promotes recycling awareness on campus in February
February 13, 2019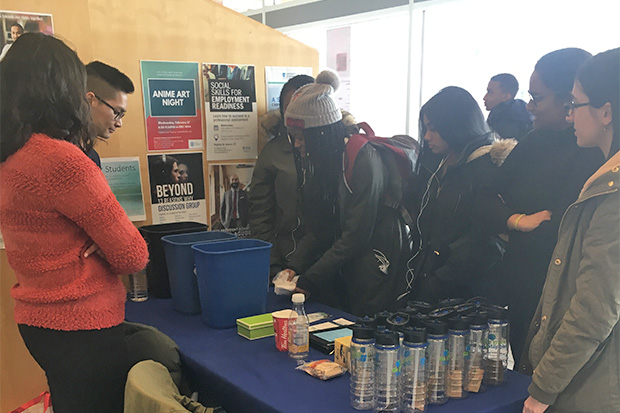 Reducing, reusing and recycling take the spotlight on campus in February as the University of Ontario Institute of Technology's Office of Campus Infrastructure and Sustainability (OCIS) hosts a number of educational activities on campus designed to raise awareness about sustainable living practices.
"The University of Ontario Institute of Technology is committed to developing programs and policies that minimize resource and material demands on campus," says Nadia Harduar, Asset and Sustainability Planner, OCIS. "Part of that commitment involves sharing knowledge within and outside our campus community to promote eco-literacy so we can adopt effective strategies that reduce the volume of waste generated and sent to the landfill."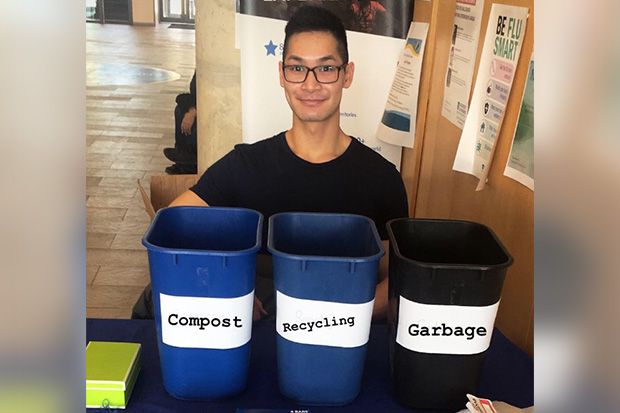 Educational booths
The university's Blue Team (a group of university students, faculty and staff focused on creating a culture of sustainability on and off campus) will set up booths at various locations across campus, where you can participate in recycle-themed events, answer trivia questions and win some great prizes.
Next booth:
Wednesday, February 27 from noon to 2 p.m. – Business and Information Technology Building, Atrium
Caught Green-Handed
Throughout the month, the Blue Team will also watch for people engaging in sustainable acts, such as using travel mugs or filling up reusable water bottles. Individuals 'caught green-handed' will receive a shout-out on social media.
Sustainability Scavenger Hunt
This is the campus community's chance to recognize sustainability-related initiatives on campus and support eco-friendly habits. Snap a photo of yourself, a friend or co-worker engaging in a sustainability-related initiative, and share it on social media using the tags @uoitgogreen, and #gogreenstayblue to showcase your discovery.
These activities are inspired by Recycle-Mania, a friendly competition that encourages students, faculty and staff from post-secondary institutions across Canada and the U.S. to track and promote waste reduction activities on their respective campuses.
Interested in joining the university's Blue Team or want to learn more? Contact 905.721.8668 ext. 6246 or sustainability@uoit.ca.