Engineering's Iron Ring Ceremony: A professional tradition unlike any other
University's Engineering class of 2019 takes part in sacred event
March 21, 2019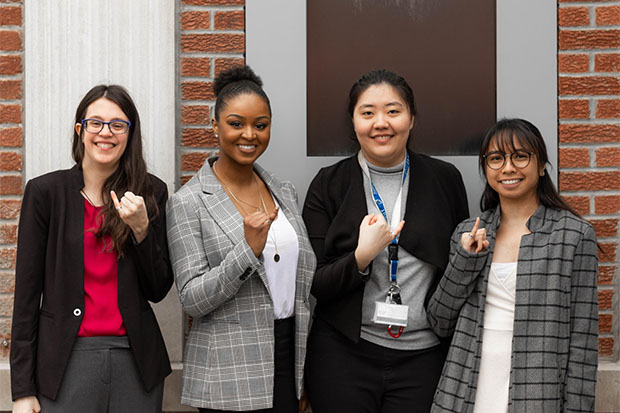 At the conclusion of an engineering student's degree program, those about to graduate participate in the highly coveted ceremony known as the Ritual of the Calling of the Engineer. It's a top-secret and time-honoured milestone dating back nearly a century in Canada's engineering community.
On March 16, over 300 soon-to-be graduates of the University of Ontario Institute of Technology gathered at the Regent Theatre for the closed-room event that resembles a ritualistic celebration one might see in a movie.
Although graduating students from the Faculty of Engineering and Applied Science and the Faculty of Energy Systems and Nuclear Science will receive their formal university degrees at Convocation in June, in many ways, the Iron Ring Ceremony is 'the' rite of passage for a young engineer. First held in Canada in the 1920s, the ceremony is similar to the Hippocratic Oath spoken by new physicians.
Graduating engineering students receive a small iron ring to be worn on the end finger of their dominant hand. A physical memento that they made it to the end of their undergraduate journey, the ring serves as a constant reminder to a newly qualified engineer of the obligations and ethics associated with their profession.
Only engineers who already have an iron ring are allowed into the ceremony. Recipients may bring an engineer with at least four years of experience to present their ring to them.
Selected Graduating student profiles 
Robert Glen, Mechatronics Engineering, class of 2019

Robert Glen, pictured with grandfather Don Snedden, electrical engineer.

What made you decide to become an engineer?

I had always excelled when it came to math and physics and I figured engineering used both of those skills in an intriguing way.

Why did you choose Mechatronics Engineering?

I was first drawn to mechatronics in Grade 11 when I took a robotics course where we built small sumo fighting robots. Those activities piqued my interest in the Mechatronics Engineering program.

Are there other engineers in your family?

There are many, which made engineering an easy choice for me. Both of my grandfathers were engineers and one (Don Snedden) was with me at the Iron Ring ceremony. In fact, two of his brothers were engineers. Three of my uncles and one of my aunts (Linda McKenzie) are also in the engineering field. My younger cousin is just completing the first year of her engineering degree. My grandfather Don was a huge help this past year with securing an internship at Bombardier Transportation.

How did it feel to have your grandfather present you your ring?

I was very happy and excited to be able to bring my grandpa to the ceremony because he was part of why I went into engineering and I have always looked up to him.

What do you know about your grandfather's engineering career?

My grandpa earned his Electrical Engineering undergraduate degree from Queen's University in 1964. He completed his master's degree in 1969 and worked at Atomic Energy of Canada Limited (AECL) in Chalk River, Ontario for 17 years. My dad now works there and my other grandfather worked there for his entire career. After AECL, my grandpa moved to CMC Microsystems (formerly Canadian Microelectronics Centre) in Ottawa, Ontario for four years, and then finished his career as a 20-year industrial technical adviser at National Research Council Canada.

Patrick Andruszkiewicz, Software Engineering, class of 2019

Member of the UOIT Motorsports Formula SAE team
Completed an internship and a co-op placement

Why did you choose to become an engineer?

I chose to become an engineer because as a kid I always had a knack for taking things apart, figuring out how they worked and then putting them back together, which wasn't always very successful.

Are there any other engineers in your family?

No, I am the first one in my entire family.

Did you switch programs during your academic journey?

I actually changed streams more than once. I started in Mechanical Engineering, then a year later moved to Automotive Engineering. Following my internship I shifted to Software Engineering.

What led to your decision to switch programs and how do you feel about that decision now that you have your Iron Ring?

The biggest factor was my third-year internship, which gave me the opportunity to see what kind of work I would be doing and what kind of environment I would be working in. I have zero regrets about switching and I am well rounded with a perspective from both the Mechanical and Software Engineering side.

What do you hope to do with your software engineering degree?

I am looking forward to working with artificial intelligence technologies to help companies make better decisions and to help as many people as I can.

What does wearing an Iron Ring mean to you?

The Iron Ring symbolizes the commitment I have to the public to ensure the work I do is done to the best of my ability while remaining humble, and that while my undergraduate journey has culminated, I still have a life's worth of learning ahead of me.

Stephanie Hill, Mechanical Mechatronics Engineering, class of 2019

Participated on the UOIT 'Robot in 3 Days' team
Member of the Women in Engineering Student Society
Completed an internship with Ontario Power Generation

What does having an Iron Ring mean to you?

It means a lot, as it represents all the hard work and perseverance I have done, not just in my five years at the university, but throughout my entire life. I have broken many barriers throughout my life and this ring is a representation of all of them.

What to you hope to do in the future with your Mechanical Mechatronics Engineering degree?

I would like to help Indigenous communities or people in some way. At this time I do not know what that looks like, but even in small ways I would like to make a difference in people's lives.

Did someone inspire you to study engineering?

Not specifically to study engineering, but my mom always supported and fostered my love and curiosity for building, creating and experimenting when I was growing up.

Why did you choose to study Mechanical Mechatronics Engineering?

I chose Mechanical Engineering with a specialization in Mechatronics because in high school I became very interested in robotics, programming and electrical circuits, which are all main parts of Mechatronics.

What is your hope for women in engineering?

My hope is that there are more of us in the future. I also hope more younger females are encouraged to follow their passions in the science, technology, engineering and mathematics (STEM) fields.

How has your Indigenous culture influenced your view of engineering?

It has not specifically influenced my view of engineering, but it has made me want to pursue it to try to help Indigenous communities in the future. Being an Indigenous female pursuing engineering has made me want to inspire Indigenous youth (especially females) with the idea that a career in STEM is possible for them.
Gallery