Enhancing school retention rates in remote communities through mobile technology applications
Diverse university research projects receive new federal funding
March 13, 2019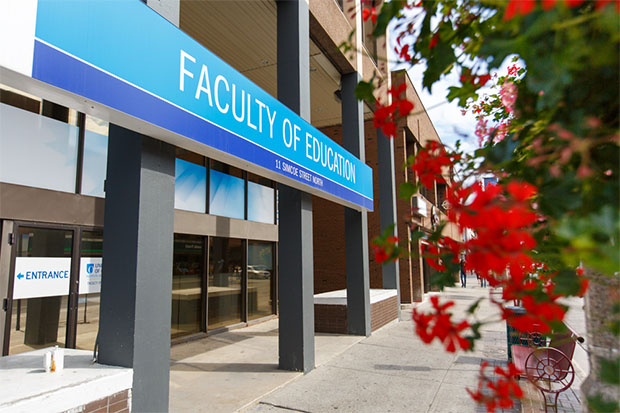 Issues connected to homelessness, technology and language, hate crimes, youth-sport education and financial planning highlight new funding for innovative research at the University of Ontario Institute of Technology.
The Social Sciences and Humanities Research Council (SSHRC) recently awarded new grants to seven researchers and their project co-applicants, representing four faculties at the university. The recipients are among thousands of scholars and researchers across the country to benefit from investment to propel new knowledge and discovery.
Four students in the School of Graduate and Postdoctoral Studies also will receive support through postdoctoral fellowships and graduate scholarships.
The national SSHRC announcement was made January 30 at Queen's University in Kingston, Ontario by the Honourable Kirsty Duncan, Minister of Science and Sport.
Research spotlight: Dr. Jia Li, Faculty of Education
Faculty of Education researcher Dr. Jia Li will receive the largest amount of new financial support for her work that tackles academic vocabulary challenges encountered in extreme cases of social, economic and educational inequity experienced by First Nations youth at Pikangikum, a remote community in northern Ontario. 
"These youth face poverty, and lack adequate housing and access to electricity and drinkable water," says Dr. Li, an Associate Professor who is also a John A. Sproul Research Fellow at the University of California, Berkeley. "School attendance is low in Pikangikum, with unusually high dropout rates combined with the highest teen suicide rate in Canada. The multidisciplinary and international research group I am leading is looking to combine computer science with efforts to address vocabulary acquisition, reading development, second-language education, language assessment and more."
If mobile language intervention and technology applications enhance school retention rates, the project will offer new insights for government, health organizations and community services that address the academic and socio-emotional challenges of Indigenous youth and meet the acute needs of Indigenous communities.
"By utilizing a culturally relevant educational research framework, this project will raise the bar for research methods used to assess the effectiveness of technology-based literacy instruction programs," says Dr. Li.   
The project's advisory board includes experts from the Pikangikum Educational Authority and academics from Canada, the United States, the Netherlands, Belgium, Israel and Norway.
SSHRC Insight Development Grants summary
SSHRC Partnership Engage Grants
Active transportation for an age-friendly community

Shilpa Dogra, PhD, Associate Professor, Faculty of Health Sciences
Collaborator: Matthew Stein, Director Social Research Centre, University of Ontario Institute of Technology
Collaborator: Anthony Caruso, Regional Municipality of Durham



Evaluating the impact of queer game content on player experience

Pejman Mirza-Babaei, PhD, Associate Professor, Faculty of Business and Information Technology
Partner: Kitfox Games, Montreal Quebec
SSHRC Doctoral Fellowships
Korri Bickle, PhD candidate in Forensic Psychology, FSSH: Toward an understanding of youth correctional officer orientation and the value of staff-youth relationships in custody
Carissa Collins, PhD candidate in Forensic Psychology, FSSH: Exploration of non-offending pedophiles: prevention, clinician attitudes, and differences
Joseph-Armand Bombardier Canada Graduate Scholarships
Oluwa-Femi Carrington, Master of Science in Forensic Psychology, FSSH: Examining the effect of conflicting expert testimony on jury decision-making in 'not criminally responsible on account of mental disorder' cases
Victoria Hall, Master of Science in Forensic Psychology, FSSH: Interrogation techniques: Does false confession change attitudes towards tactics?
Quick fact:
The Social Sciences and Humanities Research Council of Canada is the federal research-funding agency that promotes and supports post-secondary-based research and training in the humanities and social sciences. It supports thousands of research projects annually.
Quotes
Knowledge leaders in multiple faculties are advancing the research portfolio and culture at the University of Ontario Institute of Technology. Our research experts are addressing important social, environmental, health and economic challenges here in Canada and around the world. This new funding will drive new discoveries to help inform public policy across diverse social sectors." 
—Douglas Holdway, PhD, Vice-President, Research, Innovation and International (Interim)
"Social sciences and humanities research is at the heart of understanding the challenges and opportunities facing our communities and our people. Nurturing young talent in these disciplines is one of the best ways to build a healthier, stronger and more prosperous Canada."
—The Honourable Kirsty Duncan, Minister of Science and Sport
"Researchers in the social sciences and humanities community play a key role in all innovation. We are facing serious global challenges related to climate change, increased migration, inequality, faltering economies, health, food and water insecurity, and cyber security. The work of Canadian social sciences and humanities graduate students, scholars and researchers is contributing to addressing these problems for a brighter future."
—Ted Hewitt, President, Social Sciences and Humanities Research Council
Related links:
Media contact
Bryan Oliver
Communications and Marketing
University of Ontario Institute of Technology
905.721.8668 ext. 6709
289.928.3653 (cell)
bryan.oliver@uoit.ca