Grad spotlight: You never know where your academic journey might take you
Pathways program propels Ryan Scrivens from two UOIT degrees, to PhD, to faculty member at Michigan State University
March 21, 2019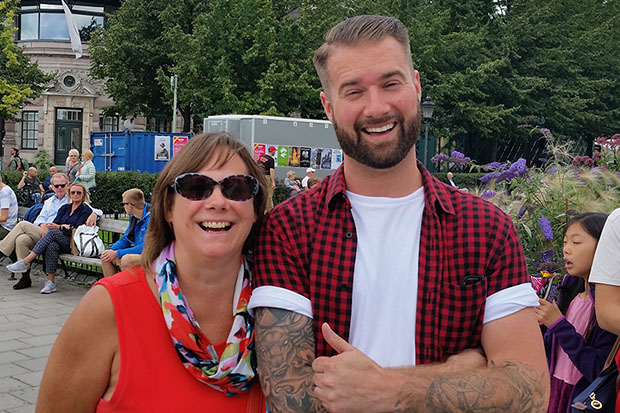 If anyone knows about the value of college-to university 'bridge' degree programs, it's Markham, Ontario-born Ryan Scrivens. The two-time Ontario Tech graduate (Bachelor of Arts in Criminology (2011) and Master of Arts in Criminology (2014)) has an intriguing story to tell about the trajectory of his post-secondary education.
Scrivens is living proof that a student who may be struggling in high school can not only be successful in college and university, they can also find their academic stride well enough to earn a PhD.
"When I was in high school, I really didn't have a strong idea of what I wanted to do," says Scrivens. "To be honest, I was struggling with some of my classes and I was a bit more interested in having fun than in studying. I almost didn't graduate from Markham District High School (MDHS)."
Little did Scrivens know at the time that his directional uncertainty in high school would ultimately lead to earning a PhD. The first step was to finish up at MDHS. After some parental encouragement, he enrolled in 2004 in the Law and Security Administration (LASA) program at Durham College.
"Part of the motivation for taking that program stemmed from various encounters with police when they'd show up at parties. I guess I wanted to know what my legal rights were with the authorities. I was still in party mode and probably not hanging out with those who wanted to be high academic achievers."
Scrivens was still shaking off some of his bad academic habits during his first year of college. He even faced academic probation. It turned out to be a huge inflection point.
"I finally realized I needed to focus on where I could be going and what was at stake for my future."
Not only did he make the grade in his LASA program, but Scrivens also discovered his college program offered a 'pathway' to a university degree. His college diploma gave him advanced standing in a bridge program, the Bachelor of Arts in Criminology and Justice at the University of Ontario Institute of Technology.
"The diploma-to-degree program allowed me to earn my degree in just two years," says Scrivens. "My grades continued to soar and I developed a deeper interest in learning more about studying criminal behaviour. My thesis focused on hate crime, and I was supervised by Dr. Barbara Perry, one of Canada's leading researchers on the topic."
Scrivens would go on to complete a master's degree and become a Teaching Assistant and Research Assistant at the university. His ongoing scholarly success led him to the Criminology PhD program at Simon Fraser University in Burnaby, B.C. He became 'Dr. Scrivens' in 2017, continuing to collaborate with his mentor Dr. Perry on new research into hate crime and extremism, and becoming one of the country's leading experts on a difficult topic.
"I can honestly say that I've never seen a student grow so much in such a short period of time," says Dr. Perry, Professor, Faculty of Social Science and Humanities. "Ryan quickly developed from someone with little direction, to an emerging leader in our shared field of study."
Scrivens has since done postdoctoral research as the Horizon Postdoctoral Fellow at Concordia University in Montreal, Quebec. That ongoing research work, paired with his collaborations with other leading experts in the field, has landed him a faculty position as an Assistant Professor in the School of Criminal Justice at Michigan State University in East Lansing, Michigan.
"I suppose the biggest lesson in all of this is the underlying message that we should never give up on people," says Scrivens. "I almost gave up on myself at one point, but there is always a path forward. When I was in high school, I could never have envisioned myself holding a doctoral degree and being a researcher at a leading U.S. university like Michigan State. You never know where or when your doors will open. You have to keep taking forward steps."