March Break camps aim to inspire children through science and technology
March 5, 2019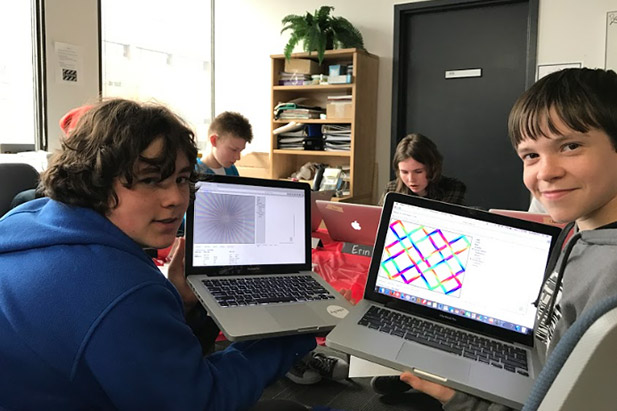 March Break offers youngsters a well-deserved breather from daily school activities. But many families still seek opportunities to keep their children academically engaged during the break, to build new skills and learn more about themselves.
To help meet this demand, the University of Ontario Institute of Technology offers a series of science and technology-focused children's March Break camps. The camps focus on scientific experimentation as well as fundamentals of design and emerging technologies. The goal is for children to develop skills that can help them adapt to ever-evolving technologies, while learning more about themselves in an engaging environment.
ChangeMakers March Break Camp (Faculty of Education)
"Students need the applicable skills, competencies and knowledge to thrive," says Laura Morrison, Research Project Manager with the Faculty of Education's (FEd) STEAM 3D Maker Lab, which runs the ChangeMakers March Break camp under the direction of Janette Hughes, PhD, Canada Research Chair in Technology and Pedagogy. "Coding, problem-solving, creativity and innovation are just a few of the competencies that are necessary to actively, meaningfully and effectively participate in the world."
The ChangeMakers camp is open to students in grades 4 to 9. This year, it focused on Artificial Intelligence and the Internet of Things. Students designed and prototyped an invention that could improve their lives or the lives of others.
"Our primary interest is to provide a fun and affordable week for students, while also researching the impact and best practices associated with the technologies students will explore," says Morrison. "Our camp, in particular, is not about teaching lessons or making the campers feel like they're still in school. It is about exploration and innovation, identity development and empowerment. It's also about having fun and meeting new people. A science, technology, engineering, arts and math (STEAM) and maker approach to learning takes inspiration from more informal learning environments like community-based makerspaces, and encourages a holistic creative and inventive learning experience. We have a variety of different digital tools the students will be able to use based on what kind of project they want to build."
For more information, visit the March Break camp page on the STEAM 3D Maker Lab website, or contact uoitsteam3D@gmail.com.
Curious Creators and LEGO® Robotics camps (Faculty of Education)
Over March Break, Sheila Rhodes, Associate Teaching Professor, FEd, ran two technology-focused camps:
Curious Creators camp (ages 7 to 11), which features hands-on engineering challenges.
LEGO® Robotics camp (ages 9 to 13), where students work with a partner to solve design challenges and construct with LEGO® Ev3 software.
"Our specialized March Break camps strike the perfect balance between fun and educational activities,'" says Rhodes. "Thanks to the hands-on nature of our programs, children develop design, critical-thinking, problem-solving and collaboration skills, which prepares them to adapt to inevitable future changes in technology, and in our society."
To learn more, visit the March Break camps page on the FEd website.
Eng Squad (Faculty of Engineering and Applied Science)
The Faculty of Engineering and Applied Science (FEAS) offered Eng Squad, a March Break camp for children in grades 4 to 6. Students participated in hands-on activities that challenged them to think critically and create innovative solutions using science, math and technology.
Learn more about other Engineering Outreach events outside of March Break.