Sarah Habibi to carry university's banner at provincial Three Minute Thesis
Applied Bioscience PhD candidate's presentation on parasites in livestock wins 2019 campus 3MT® title
March 28, 2019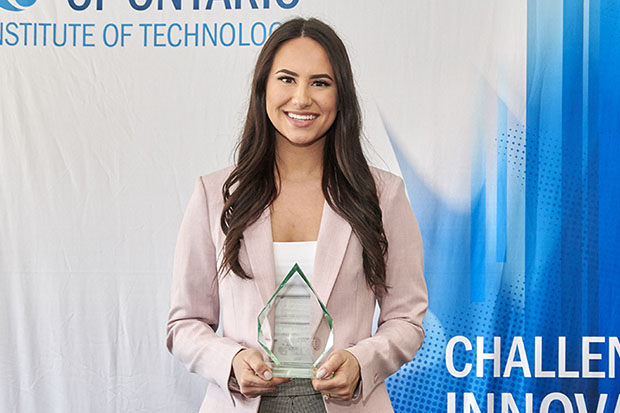 Whether you are boiling an egg or putting on a load of laundry, completing any task in under three minutes is not always easy. Now imagine trying to explain your entire university research thesis to a group of people who know nothing about your expertise, all in the same compressed timeframe of 180 seconds.
In a nutshell, that's what Three Minute Thesis (3MT®) is all about. Graduate students at Ontario Tech University get just three minutes to explain the basics of their complex research before a panel of judges. You get one shot. You can show only one static image on a screen and you cannot use props. If you go over the time limit, you're disqualified.
Growing in popularity every year, 23 of the university's candidates for master's degrees and PhDs took their best shot this March at 3MT®. Six talented students qualified for the final showdown on March 20, with Applied Bioscience PhD candidate Sarah Habibi narrowly emerging in first place for her talk about saving livestock from parasites.
"Three Minute Thesis was an amazing experience that will lead to future opportunities where I get to share my passions of teaching and research," says Habibi. "Not only was I able to better refine my skills as a presenter through 3MT®, but I also had to think about the bigger picture of my research and break it down for a broad audience. Sharing science knowledge teaches people things that are happening every day that we don't normally hear about. My research specifically touches the global agricultural industry and livestock health. I recommend all graduate students participate in 3MT® during their studies to take advantage of this knowledge sharing."
Habibi will represent the university at the seventh-annual provincial 3MT® competition on Wednesday, April 17 at McMaster University in Hamilton, Ontario.
2019 Ontario Tech University 3MT® finalists
* First place ($1,000 and the opportunity to represent the university at the provincial competition)
** Second place ($500)
*** People's Choice winner (as selected by the audience, $250)
Organized by Ontario Tech University's School of Graduate and Postdoctoral Studies, 3MT® is generously sponsored by Scotiabank (gold sponsor) and GSK (bronze sponsor).
2019 Three Minute Thesis community judges (heats)
William Chan, Certified Financial Planner, Sun Life Financial
Christine Collins, Vice-Chair, Kidney Cancer Canada
Nigel Fonseca, Senior Vice-President Ontario and Western Canada, Alithya
Amanda Huxter, Environmental Specialist, Covanta Durham York Renewable Energy LP
Neil Joshi, Community Manager, RBC Royal Bank
2019 Three Minute Thesis community judges (finals)
Michael Cleverdon, Principal, Contaminated Sites Group Leader, Golder Associates Ltd.
Paul Edwards, Director, Machine Learning and Model Innovation, Scotiabank
Hugh MacDiarmid, Chairman, Terrestrial Energy Inc.
Mario Quiquero, Vice-President, Global Print - Legal and Tax, Thomson Reuters
Darryl Spector, President, Promation Nuclear Ltd.
Katherine Thompson, Principal, Human Firewall Solutions
The 3MT® competition was developed initially by the University of Queensland (Australia) in 2008. The competition has since spread internationally to include Canada.  
Quote
"We are thrilled that Three Minute Thesis continues to grow each year. This year's 23 participants eloquently shared their research passions and the potential impacts of their work. Each one demonstrated their commitment not only to their thesis research, but also to the preparation, practice and public-speaking skills required to present complex findings and advanced concepts in a memorable and tangible way for a diverse audience. We will be cheering Sarah on as she presents again at McMaster University for the provincial competition."
-Langis Roy, PhD, Dean, School of Graduate and Postdoctoral Studies
Gallery