Spin bike riders bracing for all extreme weather conditions during spectacular indoor charity event
'Spin Through the Seasons' fundraiser at ACE will support leadership initiatives for varsity athletes
March 11, 2019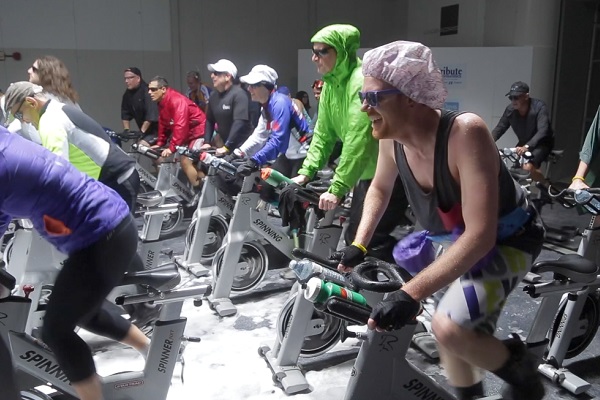 Have you ever wondered what it would be like to cycle through the cool air of the Swiss Alps, the tropical breeze of the Caribbean or the warmth of Tuscany's sun-kissed countryside? How about something more intense, like riding through an Antarctic blizzard, the scorching Sahara Desert or a humid tropical storm?
Thanks to a one-of-a-kind fundraising event at the University of Ontario Institute of Technology, you can pedal through all of these weather conditions in the span of four hours.
On Sunday, March 24, the university's Athletics department invites faculty, staff, students and community members to participate in Spin Through the Seasons inside the university's powerful ACE Climatic Wind Tunnel. The event supports the Ridgeback Leadership Council's goals to increase athlete engagement, get more involved in the community and develop leadership among the university's student-athletes.
ACE is known for its advanced research and testing capabilities, as well as its awe-inspiring ability to create any climatic condition on the planet—from sweltering jungle downpours to the paralyzing cold of an arctic storm. Led by multi-sport Canadian athlete and spin instructor Kim Haagmen-Hawke, participants will progress through four separate one-hour spin classes, each featuring one of four seasons: winter, fall, spring or summer.
Riders aged 13 or older can register on their own (if they think they can handle all four seasons!), or in teams of two or four to split up the seasons.
While team members are not in the wind tunnel, they can participate in other mini-events, such as hot yoga in a climatic chamber, or mindfulness sessions in ACE's soundproof hemi-anechoic chamber. Or they can just relax and recharge at the tiki bar with a smoothie.
Read more about the upcoming event on the Ridgebacks website, and check out this video clip from the 2016 Ontario Shores Extreme Challenge for a sneak peek of what to expect!
Gallery