Campus Charity Walk and Run breaks fundraising records in support of high-risk youth outreach program
May 17, 2019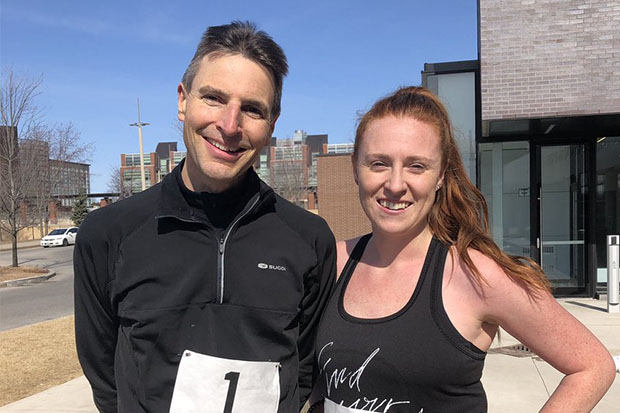 Students, staff and faculty from Ontario Tech University and Durham College broke a record while breaking a sweat during the 11th-annual Campus Charity Walk and Run for the Boys and Girls Club of Durham (BGCD).
The event, held on April 4 outside the Campus Recreation and Wellness Centre at the university's and college's shared campus location in north Oshawa, raised $5,315 for the BGCD's Youth Outreach Worker Program. The program removes barriers and increases employment, education, housing and community service opportunities for high-risk youth by supplying bus tickets, clothing/uniforms, transportation, meals and housing help. It also encourages effective relationships in the community by providing community service opportunities for participants.
"When we first started this run 11 years ago, our hope was that one day we could hopefully make $5,000 for BGCD's Youth Outreach Program," says organizer Carla Cesaroni, PhD, Associate Professor in the university's Faculty of Social Science and Humanities (FSSH). "This is the first year we've raised more than $5,000, surpassing this year's goal of $4,500."
"Warm congratulations to Ontario Tech University Professor Carla Cesaroni and all the volunteers who exceeded expectations at the fundraising run for BGCD Youth Outreach Program," says Peter Stoett, PhD, Dean, FSSH. "At Ontario Tech University, community engagement is in our DNA. We are very proud of the success of this year's event, which helps give children from diverse backgrounds the opportunity to realize their full potential."
"As a mom of an Ontario Tech student, I am very proud that the university and college have a strong sense of social responsibility and understand the importance of giving back to the community," says Kathleen Hutton, Executive Director, BGCD. "One day, many of our club members will become Ontario Tech students and graduates."
The result of this year's event has left a trail of excitement and enthusiasm for future Campus Charity Walk and Run events.
"We want to thank all of those across campus who participated, donated and volunteered to make this event possible, and we thank everyone for their continuing support of this great cause," says Dr. Cesaroni.
2019 awards
Fastest men:
Langis Roy - 11:46
Sergio Lozano - 12:03
Nick Vantfoort - 12:04
Fastest women: 
Sarah Kelly - 12:58
Falon Haurlburt - 13:10
Daria Ruginis - 13:17
Fastest faculty/staff:
Andrea Craning Best Spirit Award:
Finley and Gavin Mitchell