Ontario Tech recognizes International Day Against Homophobia, Transphobia and Biphobia
Reaffirms commitment to equity, diversity and inclusion on campus
May 17, 2019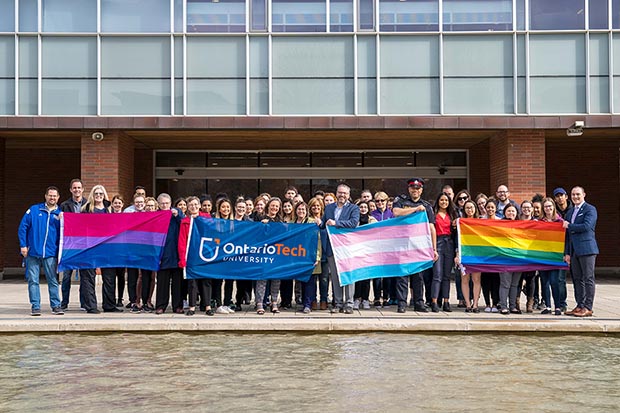 Each year on May 17, millions around the world come together to recognize the International Day Against Homophobia, Transphobia and Biphobia (IDAHOTB). Created in 2004, IDAHOTB draws attention to the violence and discrimination experienced by lesbian, gay, bisexual, transgender, intersex and other people with diverse sexual orientations, gender identities or expressions, and sex characteristics.
In recognition of IDAHOTB 2019, Ontario Tech University faculty, staff and students joined community partner representatives from Parents and Friends of Lesbians and Gays (PFLAG) Canada Durham Region for a Pride flag ceremony. Together they affirmed the university's commitment to supporting human rights while reinforcing a campus culture where everyone feels accepted.
IDAHOTB commemorates the date homosexuality was declassified as a mental disorder by the World Health Organization in 1990. It is now celebrated in more than 130 countries.
Quote:
"Ontario Tech University proudly advocates for its students, faculty and staff by uniting with communities across the globe who stand up for human rights. This event demonstrates the university's commitment to promoting positive social change and encouraging an equitable, diverse and inclusive culture on campus."
- Dr. Steven Murphy, President and Vice-Chancellor, Ontario Tech University