Ontario Tech University experts sharing high-tech discoveries on the international stage
Researchers sharing new knowledge at influential technology conference in Scotland
May 6, 2019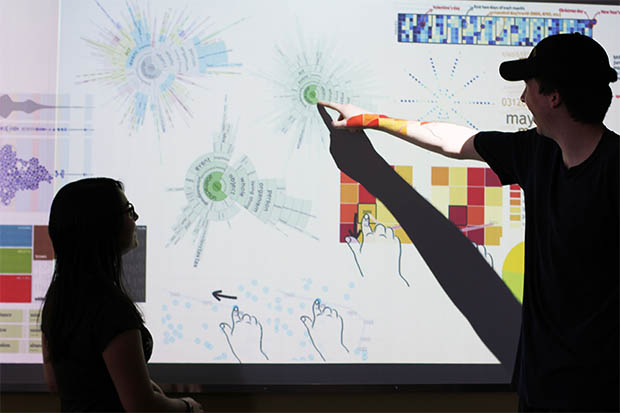 Technological innovation in today's world changes so rapidly, it's almost impossible for consumers to keep pace. It doesn't take long for last year's newest software or must-have gadget to suddenly be passé, superseded by something faster or more functional.
Researchers at Ontario Tech University focus on how technology can improve our quality of life. They explore the moral and conscience-related aspects of tech pertaining to human-computer interaction (CHI).
From Saturday, May 4 to Thursday, May 9, several researchers will share their latest findings at the Association for Computing Machinery's (ACM) 2019 Conference on Human Factors in Computing Systems. The ACM CHI Conference in Glasgow, Scotland is the premier annual international conference on research into latest interactive technologies.
Experts from Ontario Tech University will present four full research papers along with two summaries on 'late-breaking works'. Various students from Ontario Tech's School of Graduate and Postdoctoral Studies also contributed to the research papers.
"Fewer than one-quarter of all research paper submissions to this conference are selected by organizers for general presentation, so this is a huge achievement for Ontario Tech University," says Pejman Mirza-Babaei, PhD, Associate Professor, Faculty of Business and Information Technology. "Our extensive involvement in the conference underscores the quality of user-experience, games accessibility, serious games and data visualization research going on every day in our labs."
Selected papers for the ACM CHI conference (Ontario Tech University participants noted in bold; research web pages hyperlinked where available):
Saliency Deficit and Motion Outlier Detection in Animated Scatterplots (Honorable mention)
(Rafael Veras, Christopher Collins)
When a data visualization is animated, some points naturally pop out and others are less visible among the clutter. Through a large-scale perceptual experiment, researchers determined which factors are most likely to cause important data elements to be seen or missed. The resulting model can be used to guide the design of visualizations to ensure important data points will be visible.
ActiveInk: (Th)Inking with Data (Honorable mention)
(Hugo Romat, Nathalie Henry Riche, Ken Hinckley, Bongshin Lee, Caroline Appert, Emmanuel Pietriga, Christopher Collins)
Interacting with a pen to write thoughts and sketch ideas is a natural way to think through an analysis. In ActiveInk, we merge note-taking with novel ink-driven actions on data visualizations, such as circling a data item to highlight it, or crossing it out to remove it from view (ActiveInk was created in collaboration with Microsoft Research and France's Institute for Research in Computer Science and Automation (INRIA)).
Let's Play Together: Adaptation Guidelines of Board Games for Players with Visual Impairment
(Frederico da Rocha Tomé Filho, Pejman Mirza-Babaei, Bill Kapralos, Glaudiney Moreira Mendonça Junior)
While board games have been rising in popularity in the past decade, they have been largely inaccessible for those with visual impairment. This investigation evaluates various accessibility strategies to make these games playable to all users, regardless of visual ability, and propose a series of guidelines for the design and evaluation of accessible games.
Aggregated Visualization of Playtesting Data
(Günter Wallner, Nour Halabi, Pejman Mirza-Babaei)
Visualization techniques can help integrate quantitative and qualitative data. This paper proposes an aggregated visualization technique to simultaneously display mixed playtesting data. It evaluates the usefulness of the technique through interviews with professional game developers and compare it to a non-aggregated visualization.
Artificial Playfulness: A Tool for Automated Agent-Based Playtesting
(Samantha Stahlke, Atiya Nova, Pejman Mirza-Babaei)
Playtesting is a crucial part of the game production process, but testing with human users can be incredibly expensive and time-consuming. This research aims to address these challenges with PathOS - a prototype framework for simulating player navigation in games through the use of artificial intelligence. PathOS gives developers a cost-effective option to coarsely predict player behaviour, allowing them to pursue informed iteration on their work earlier in the design process.
FRVRIT:- A Tool for Full Body Virtual Reality Game Evaluation
(Daniel MacCormick, Alain Sangalang, Jackson Rushing, Ravnik Singh Jagpal, Pejman Mirza-Babaei, Loutfouz Zaman)
Testing and evaluating how players interact with virtual reality games often requires watching back hours of footage and manually noting down observations. FRVRIT provides developers a way of recording entire VR sessions and visualizing them at a glance, in their entirety.
User Experience (UX) Research in Games
(Lennart Nacke, Pejman Mirza-Babaei, Anders Drachen)
Delivering a course on user experience research in games, and chairing a conference session on bodily play.
Gallery