Ontario Tech graduates reflect on their paths to Convocation
Two 2019 Kinesiology grads grateful for the variety of university student services
June 7, 2019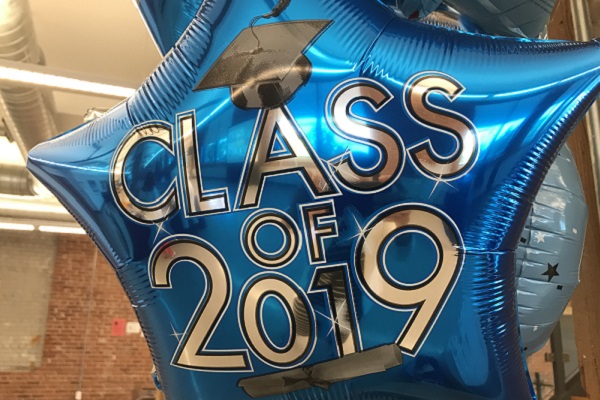 Every year about 2,000 Ontario Tech University graduates cross the stage at Convocation to celebrate the pinnacle of their individual academic journeys.
While Convocation is a time of reflection and recognition, every student's academic experience is unique. For many, including 2019 Ontario Tech Kinesiology graduates Stephen Yusay and Braden Flynn, the road to graduation was challenging—especially during their transition to university.
"Adjusting felt the hardest in Year 1," says Flynn, a diploma-to-degree bridge program graduate previously from Loyalist College in Belleville, Ontario. "I wasn't fully aware of how the expectations of academic work would increase. After getting my first few grades back, I sensed it was going to be much more difficult than I thought."
Feelings of isolation can be common for new students, something Yusay, says he experienced right off the bat. As a result, he started skipping classes and not prioritizing his studies, at the expense of his grades.
"I thought I could handle everything on my own," says Yusay, whose hometown is Scarborough, Ontario. "I didn't realize I was setting myself up for failure. I've never failed before and going through this really took a toll on me. This was a good reminder for me to think about the kind of person I want to be."
Being a university student can be challenging for a variety of reasons, but Ontario Tech provides many great services, resources and opportunities to help new students get involved on campus and give them a sense of community and connection.
Yusay did career counselling through the Office of Student Life, which offers support to students through academic, career and health and wellness services. He also worked with Bryan Lee, Senior Academic Advisor, Faculty of Health Sciences (FHS).
"I realized I couldn't do it all on my own and that I needed help," says Yusay. "My academic advisor helped me set goals on how to achieve further education and always reminded me to keep working hard."
Yusay also credits his professors, including Nick Wattie, PhD, Associate Professor, FHS, with helping him realize his full potential.
"My profs wanted to be a part of my story and help me any way they could," he says.
Students can anchor themselves to a positive, encouraging environment in many excellent ways, including getting involved with student groups, working on campus through the university's work study program, using exercise facilities such as the Campus Recreation and Wellness Centre (CRWC) or participating in university athletics.
"Being involved on campus made being a student easier for me and gave me momentum," says Flynn, who worked part-time at the CRWC in his fourth year, played intramural soccer and joined the varsity Ridgebacks Novice Rowing Team. "There are definitely resources at the school you can use. It wasn't about not having time; it was about what I did with my time."
Tossing their caps in the air alongside their fellow graduates at Convocation will be a pivotal moment for Flynn and Yusay, symbolizing their perseverance and dedication to completing their programs.
"Having my degree feels good," says Flynn. "I feel proud of it because of how difficult it was and what I had to go through to finish it."
"I value all the lessons I learned in class," says Yusay. "Getting my degree is another stepping stone to becoming a better version of myself."