Ontario Tech students help drive lakeshore cleanup initiative
June 13, 2019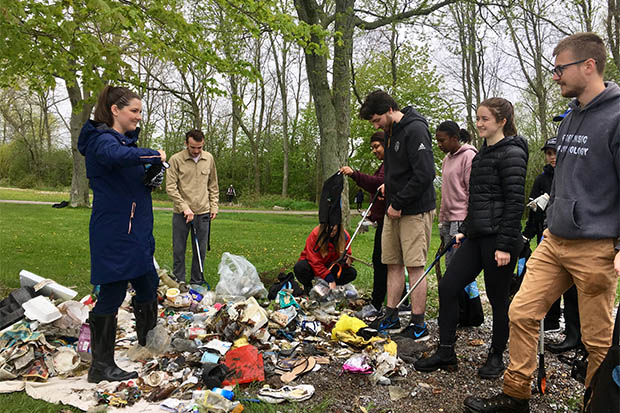 The Lake Ontario shoreline is getting a bit of a makeover, thanks to the efforts of volunteers at a recent lakefront cleanup at Renaissance Park in Oshawa.
Ontario Tech University students from the Faculty of Social Science and Humanities (FSSH), along with the FSSH Practicum team and partner organization A Greener Future, spent three hours on May 29 collecting more than 3,000 pieces of litter from the lakefront as part of the Love Your Lake initiative. Students will be gathering and analyzing data from items found to identify waste trends and develop potential sustainable solutions.
A Greener Future is an Oshawa-based organization that works hand-in-hand with local communities to promote environmental preservation through organized litter cleanups, educational programs and events. A Greener Future is also one of the experiential learning opportunities for students offered through the FSSH Practicum office.
Prior to the cleanup, students completed Citizen Science, a comprehensive online training program that explains data collection methods and analysis, and why they're important.
Students benefit from this initiative through:
Increased understanding of academic concepts and theories applied to real-world scenarios.
Enhanced social awareness, responsibility and civic engagement.
Relevant volunteer experience for resumé and professional portfolio.
Love Your Lake is a great opportunity for students to get involved with environmental sustainability practices in their community. The local initiatives align with some of the learning goals from the university's new Sustainability Studies minor starting in Fall 2019, a program available to all students in any major program at Ontario Tech.
Quotes:
"Our community engagement projects reflect Ontario Tech's goal of connecting with the broader community to build new partnerships and provide practical, hands-on learning experiences to our Social Science and Humanities students. These short-term projects allow students to partner with organizations needing hands-on, project-based support. They also help students understand how their course work relates to social issues by linking real-life experiences to academic content."
- Juanita Barton, Practicum Co-ordinator, Faculty of Social Science and Humanities
"The Sustainability Studies minor was built to allow students from across the university to apply their passion for environmental sustainability. Students in engineering, sciences, criminology or psychology, for example, all have different forms of expertise required to make a greener future possible. It was exciting to see so many students from different disciplines cleaning our local environment and assisting in vital pollution data collection. I hope this cleanup effort marks just the beginning of a growing Sustainability Studies program, and a working relationship between the university and essential community organizations like A Greener Future."
- Timothy MacNeill, PhD, Associate Professor, Faculty of Social Science and Humanities