Ontario Tech's English Language Centre embraces campus integration
June 4, 2019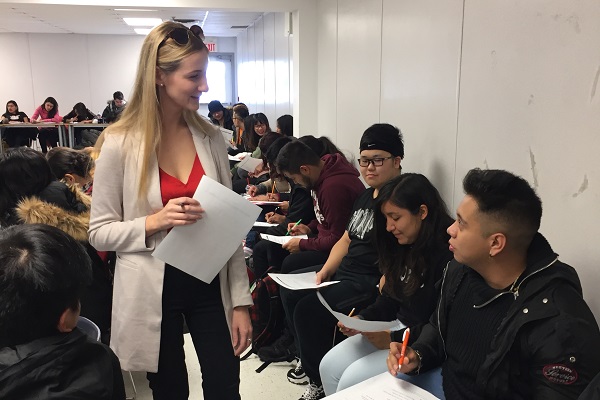 From the time he arrived on campus in 2016, Matt Devlin has seen hundreds of students along their academic journey. As a Student Resource Co-ordinator in Ontario Tech University's English Language Centre (ELC), he hears a common refrain from international students who choose Ontario Tech University their post-secondary home.
"ELC students aren't learning in a bubble; they are part of Ontario Tech's vibrant and inclusive campus," says Devlin. "We hear feedback all the time from ELC students saying they love engaging with students, staff and faculty from all departments here on campus."
Situated at the university's north Oshawa location, the ELC collaborates with all university departments and faculties to deliver a high-quality, focused English program that allows international students to seamlessly enter their program of choice at Ontario Tech or Durham College. The ELC program places students in relevant language-learning contexts and real-life situations, providing them with opportunities to develop the skills needed to succeed in post-secondary education and in a multicultural world.
ELC students originate from 15 countries worldwide. They are full-time Ontario Tech students who enjoy most of the same services and facility access as all full-time Ontario Tech students. Many ELC students can be found studying and researching in the campus library, going for a lunchtime skate at the Campus Ice Centre, or exercising at the Campus Recreation and Wellness Centre.
"There are boundless opportunities for ELC students to get involved, make connections with other Ontario Tech students, staff and faculty, and enrich their academic experiences," says Devlin. "Ontario Tech is the perfect setting for helping the university's ELC students transition into their chosen programs."
"On my very first day here, I felt like I belonged to the university," says Isaac Li, an ELC student from China who will enter Ontario Tech's Electrical Engineering program next fall. "I didn't have to wait to start my undergraduate program before I felt like a university student."
Campus integration is an integral part of the ELC's program, allowing ELC students and the greater campus community to engage with each other. 
One example is ELC's ongoing collaboration with Lyndsay Woolridge, a PhD candidate in the university's Forensic Psychology program. Woolridge is investigating the influence of linguistic factors on deception detection judgments in legal settings; the opportunity to work with ELC students has fit perfectly with her research.
Over the past two years, Woolridge has delivered guest lectures on a variety of topics as part of the ELC Talk Speaker Series. She has also interviewed students as part of her research. Woolridge has received valuable lecturing experience and access to students for her research, and ELC students have engaged with an established Ontario Tech student and researcher.