University celebrates international partnership at launch ceremony in Peru
June 21, 2019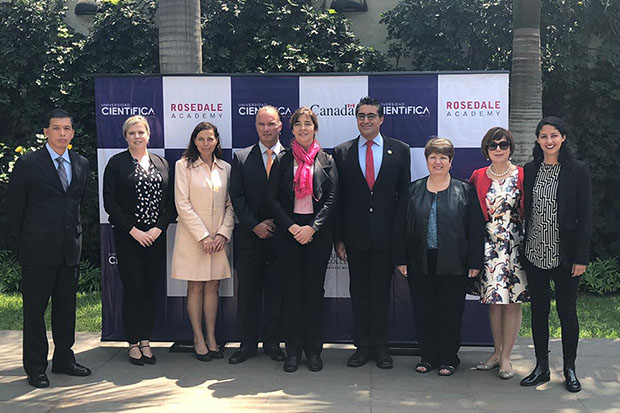 Representatives from Ontario Tech University recently visited Lima, Peru to formally mark the launch of a new partnership that will offer Peruvian students extended learning opportunities and new academic pathways to undergraduate study in Canada.
The agreement, signed last fall with Universidad Cientifica del Sur (Cientifica), allows Peruvian students to earn their Ontario Secondary School Diploma (OSSD) through Cientifica, as well as complete the necessary English training to fulfil the academic and language requirements for admission to Ontario Tech. Participating students will initially receive conditional admission to Ontario Tech, with final admission pending graduation with an OSSD and a competitive grade point average.
Cientifica will offer the OSSD as part of the International University Foundation Program (IUFP). This program operates through a partnership with Rosedale Academy, an online high school that partners with educational institutions around the world to deliver Ontario high school courses in a blended-learning environment (a combination of online and in-class learning) for students seeking to bridge into a Canadian university program. Ontario Tech is the first of four Canadian university partners in the IUFP.
Shannon Bracken, Director of Admissions and Recruitment, was present at the launch ceremony at the Embassy of Canada to Peru. For Bracken, the visit offered an opportunity to train Cientifica's recruitment and marketing staff about Ontario Tech, and promote the university to prospective students through:
An information session for prospective students of the Cientifica del Sur-Rosedale program.
Visits to local high schools.
A public fair.
Quotes:
"The Ontario Secondary School Diploma program offered through our partnership with Universidad Cientifica del Sur and Rosedale Academy is the only Canadian high school curriculum offered in Peru. We're excited to offer this new pathway, which will prepare Peruvian students academically to enter Ontario Tech. We look forward to welcoming students from Peru to our campus."
- Shannon Bracken, Director, Admissions and Recruitment, Ontario Tech University
"The partnership we celebrated represents an important step in the relationship between Canada and Peru as strategic partners in education. In 2018, and for the third year in a row, Peru has ranked among the fastest-growing countries in the region in sending students to Canada. We are sure that the International University Foundation Program offered by the Universidad Científica del Sur, promoted by the Rosedale Academy in partnership with Ontario Tech University, will be a key tool to continue this steady growth. The ability to obtain the Ontario Secondary School Diploma is globally recognized as a key to the best colleges and universities in Canada and the world. Therefore, we are very honoured to have supported the consolidation of this strategic alliance, which will benefit so many students in Peru, providing them with a safe start to successful professional development."
- Gwyneth Kutz, Ambassador, Embassy of Canada to Peru