Educator's mid-career return to university proves to be a highly rewarding experience
Ontario Tech student Kim Bradley receives Prime Minister's Award for Excellence in Early Childhood Education
July 2, 2019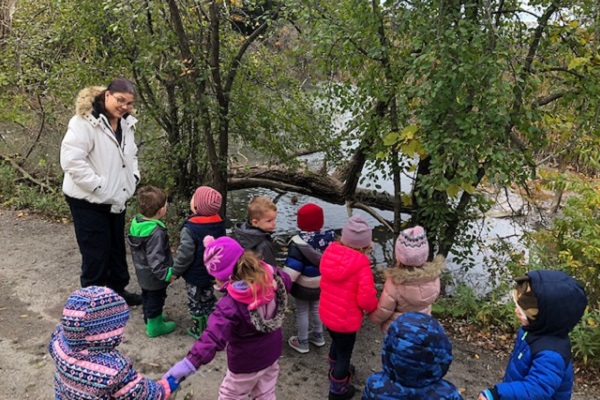 Ontario Tech University student Kim Bradley has been at the forefront of innovative pre-elementary school teaching in Ontario since the early 1990s. Now, her accomplishments and commitment to personal learning and professional development have earned her national recognition.
In 2017 Bradley enrolled in Ontario Tech's Educational Studies and Digital Technology (ESDT) program (Early Childhood Studies specialization) to enhance her qualifications and learn more about growing trends in early childhood education. While attending university, she has also worked full-time as the Registered Early Childhood Educator Supervisor at Ultimate School-Agers, a child care centre in Courtice, Ontario.
Bradley's colleagues have dubbed her 'an educator ahead of her time' for good reason: she has pioneered several program initiatives that incorporate science, technology, engineering and math (STEM), land-based learning (an environmental approach to learning that recognizes the deep connection and relationship of Indigenous peoples to the land), and anti-bullying programs.
In recognition of her superior record of innovation in education, the Government of Canada presented Bradley the 2019 Prime Minister's Award for Excellence in Early Childhood Education. The award honours individuals who display leadership, promote exemplary early childhood education practices, and commit to building the foundation children need to make the best possible start in life.
'The wave of the future is technology'
Ontario Tech University's Faculty of Education ESDT program emphasizes a teaching approach that focuses on the value of learning by seeking solutions to everyday problems. Students work collaboratively to explore potential answers, developing their critical-thinking and problem-solving skills along the way. Bradley was surprised how much the problem-based learning approach meshed with the teaching methods she had applied for many years.
Other concepts, such as the value of digital technology in early education, were less familiar to her. For most of her career, Bradley didn't believe there was much room for technology in the pre-elementary classroom. But all of that changed the day her first instructor, Associate Professor Roland van Oostveen, PhD, spoke in class about how computers can help with lower-order thinking (such as recalling and repeating information) so students can shift their efforts toward higher-order tasks of greater cognitive complexity (creativity, critical thinking, problem-solving, and effective communication and collaboration).
"It was like a ton of bricks hit me: I realized why we had technology and what it would mean for  children in the future," says Bradley. "I immediately began researching how to implement technology into child care. I began taking everything I was learning at Ontario Tech and finding ways to add to or extend my program."
Bradley has since introduced elements of technology such as storyboards and simulators for dramatic play in the classroom. Her students communicate with digital pen pals from around the world. Older students create games using Scratch, a software program for designing interactive stories, games and animations.
"Whether we agree or not, technology is the wave of the future," says Bradley. "We as educators need to catch up and realize we need to be co-learners with children and look for ways to help children engage technology."
Indigenous involvement
During a deep conversation she had years ago with a friend from Thunder Bay, Ontario, Bradley came to realize the lack of First Nations teachings in education. She began attending Indigenous socials and gatherings to research ways to incorporate Indigenous perspectives into child care. She also took a research trip to Gull Bay First Nation in Thunder Bay.
Since then, she has introduced a number of Indigenous cultural elements into Ultimate School-Agers' pre-elementary curriculum, such as an altar for ceremonies, and Indigenous-inspired visual aids. Ultimate School-Agers' vegetable garden features sacred medicinal plants and traditional Indigenous produce such as corn, squash and beans. Children spend a lot of time tending the garden, collecting and studying bugs and playing outside on logs, planks, rocks and playground equipment.
A First Nations Elder also recently visited the centre to perform a traditional naming ceremony for the centre's resident teddy bear. The ceremony taught the students about the importance of respecting one another and taking care of the environment.
"I truly believe today's young generation will make truth and reconciliation between Canadians and Indigenous peoples happen," says Bradley. "It is my goal to teach as many children as possible about Two-Eyed seeing, which blends Indigenous and Western technologies and ways of knowing so they can see the world from both perspectives."
Bradley is grateful for her award, but stresses she has received a lot of help along the way.
"I have a group of supporters around me—colleagues, parents and community supports—who make me look good, along with Ontario Tech staff and students who give me a warm and inviting place to grow and extend my knowledge so I can enhance my child-care programs," she says. "But most of all, each child's own sense of discovery has allowed me to live in the moment with them."