University team powers the Big Bike for the Heart and Stroke Foundation
July 5, 2019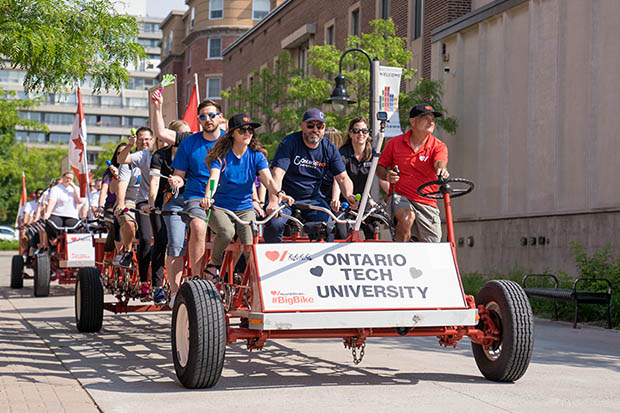 Onlookers cheered as Ontario Tech University faculty and staff pedalled a 30-seat bike through downtown Oshawa on June 19 as part of the Heart and Stroke Foundation's Big Bike event.
Cardiovascular disease is a leading cause of death for Canadian men and women. Every seven minutes, someone in Canada dies from heart disease or stroke. The Big Bike ride program is helping change that by raising awareness and funding critical research for heart disease and stroke.
Participants included university President Dr. Steven Murphy and Hunter the Ridgeback. The university's team raised a total of $1,350; Kari Clarkson, Communications Co-ordinator, Office of the Registrar, raised the largest sum at $300. 
If you missed the chance to ride the Big Bike or donate, you can still contribute on the Heart and Stroke Foundation's website.
Quote:
"I was very excited to once again participate in fundraising for the Heart and Stroke Foundation. A lot of great heart health-related research is in progress, but there will always be more to do. Because life can be unpredictable, it's important to be proactive in our efforts to fund future research. The chance to have an impact on somebody's life is very rewarding, especially when you're sharing the experience with your colleagues."                                                                                                                                                                                              - Kari Clarkson, Communications Co-ordinator, Office of the Registrar, Ontario Tech University