Ontario Tech University's new brand ushers in an exciting new era as academic year begins
University's strong foundation sets stage for 2020s and beyond
September 5, 2019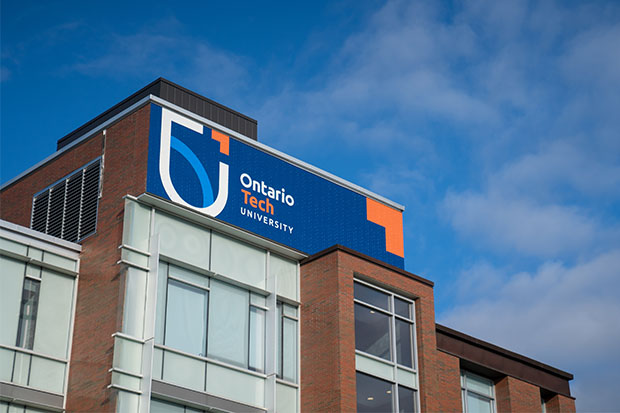 The date was May 9, 2001. The 20th century and 'Y2K' were quickly fading in the rear-view mirror. Global technology was advancing rapidly. Debit payments surpassed cash transactions in Canada for the first time. The world was about to be introduced to a new music-playing device called an iPod MP3. Facebook, Twitter and iPhones were still on the horizon.
On that same day, Ontario announced plans for the first brand-new university in the province in 40 years: a research university to flank the eastern side of the Greater Toronto Area. The legislation that created what began as the University of Ontario Institute of Technology culminated many years of dreaming among visionary leaders across the Regional Municipality of Durham.
It's remarkable in many ways to think Ontario Tech University is now nearly a full generation old. In modern-day Durham Region, it's almost impossible to imagine there ever was a time without Ontario Tech, now a vital economic contributor to the community and a hub for research, development, knowledge creation and innovative partnerships across the region.
New brand takes hold
The university moves into is 17th full academic year with a distinct and bold new Ontario Tech University brand. As more than 2,000 new undergraduate students transition to university life, the campus has a new feel with refreshed signage and updated logos across campus.
Varsity Ridgebacks teams are sporting new uniforms reflecting the new brand. While long-established sports such as rowing, soccer and hockey are carrying forward their traditions of student-athlete excellence, Ontario Tech's brand-new women's and men's basketball programs are preparing for their inaugural seasons this fall.
Ontario Tech's website, digital signage and social media handles all have a new look. The university's new app, Ontario Tech Mobile, allows the campus and broader community to stay connected like never before.
New programs, flexible accessible education
New undergraduate programs in 2019-2020 include a minor in Sustainability Studies, a Bachelor of Arts in Liberal Studies, and a PhD in Health Sciences. On the horizon for future years is a Bachelor of Technology in Sustainable Energy Systems. The university's Continuous Learning department also provides a wide range of relevant not-for-credit upskilling certification and professional development programs to meet the changing needs of people in the community.
Work begins on new building
Construction is underway at the north Oshawa location on a new building that will serve as the new home for the Office of Student Life, Ontario Tech Student Union and Faculty of Health Sciences, and offer more classroom and collaboration space (scheduled opening in Fall 2021).
Did you know?
MyStart (Orientation) culminates with the Wild Goose Chase: the annual inter-faculty competition designed to help students learn the history of the university, familiarize themselves with the physical location of supports and services and start working together as a team. The coveted Stanley the Goose trophy was captured this year by students from the Faculty of Energy Systems and Nuclear Science.
Formal classes began Thursday, September 5, the same day as the Get Involved Fair, a showcase of many of the student-led clubs and societies on campus.
Dozens of staff, faculty and upper-year students take part in the Ask Me program. Volunteers station themselves in high-traffic areas on campus to answer questions and help students find their way around campus during their first few days of the semester.
The university's new Hive Café (adjacent to the Campus Library at Polonksy Commons) opens on Monday, September 9.