Ontario Tech University research pioneering virtual reality health-care training
Technology simulating hospital operating room environments creates distinct learning advantages
October 15, 2019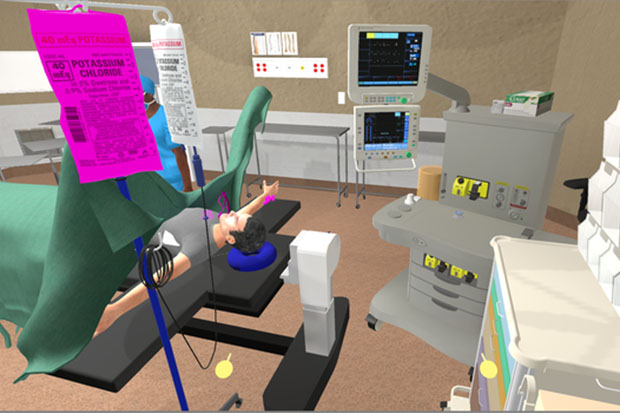 Long associated with science fiction and video games, virtual reality (VR) has seen rapid development in practical applications since the turn of the century. VR's capacity to simulate specific environments and accurately capture physical actions has given rise to its deployment for 'serious' purposes, including its use in work-training programs in medicine.
An Ontario Tech University research team* in the Faculty of Business and Information Technology (FBIT) is exploring the practical potential of VR, where the user is completely immersed within a 3D computer generated world; as well as 'augmented reality' (AR), where digital and graphic elements are added to the real physical space to augment objects comprising it.
*Research team includes:
Bill Kapralos, Associate Professor and Program Director, Game Development and Entrepreneurship
Alvaro Quevedo, Assistant Professor, Game Development and Entrepreneurship
Kyle Wilcocks, PhD student, Computer Science, FBIT
Game-changing research collaboration with Sunnybrook
One of Ontario Tech's VR partnerships is with Sunnybrook Health Sciences Centre in Toronto, Ontario. The collaboration with anesthesiologists from Sunnybrook's Collaborative Human Immersive Interaction Laboratory (led by Sunnybrook's Dr. Fahad Alam) involves developing a VR-based Anesthesia Crisis Scenario Builder (ACSB). The ACSB demonstrates virtual anesthesia-based simulations tailored to specific (common and uncommon) crisis scenarios. Trainees wearing a VR headset experience the simulated crisis, and develop their skills and knowledge for dealing with it in an interactive and active manner.
"Sensors placed strategically around the room create a compelling 'visual' experience through the headset that places the user in a very life-like, but virtual operating room," says Dr. Bill Kapralos, Associate Professor, Game Development and Entrepreneurship, FBIT. "Health-care trainees can move around the virtual space and navigate around 'equipment' they will see. Headset wearers also use hand-held controllers that mimic physical responses by the user such as hand movements."
The advantages of multiple emergency scenario VR applications in a health-care setting are substantial. Medical students gain a powerful sense of what it will be like when they respond to a real-life scenario for the first time. Training costs will be lower since trainees won't have to travel afar to other hospitals or clinics to learn the ropes: they can learn wherever the technology is in place.
"This virtual system can be a game-changer in medicine, and it doesn't take long to envision how various work training systems could be developed for any profession," says Dr. Kapralos. "Today's hardware is relatively affordable, so that's the easy part. The big work involves creating the content, and in developing the software and programs to bring these virtual workspaces to life, and that's where our Ontario Tech University research comes into the picture. What sets this work apart is that you're not stuck to one static scene as with the majority of virtual simulations currently available. Medical educators can develop specific scenarios or modify existing ones in a simple and intuitive manner. They don't require prior programming experience."
VR and AR won't replace current training approaches anytime soon, but they do provide additional tools for training.
"The future of medical-based simulation education will, without a doubt, focus on introducing computer-based simulation with immersive technologies as part of a blended approach," says Dr. Kapralos. "The different simulation modalities such as task trainers, mannequin-based or standardized/simulated patients, plus VR and AR, will play different roles in the educational journey of the trainee."
Related link
---
Media contact
Bryan Oliver
Communications and Marketing
Ontario Tech University
905.721.8668 ext. 6709
289.928.3653 (mobile)
bryan.oliver@ontariotechu.ca