Ontario Tech University's leadership in AI education preparing students for cybersecurity careers
University's Master of IT Security program receives national recognition for unique focus on artificial intelligence
October 10, 2019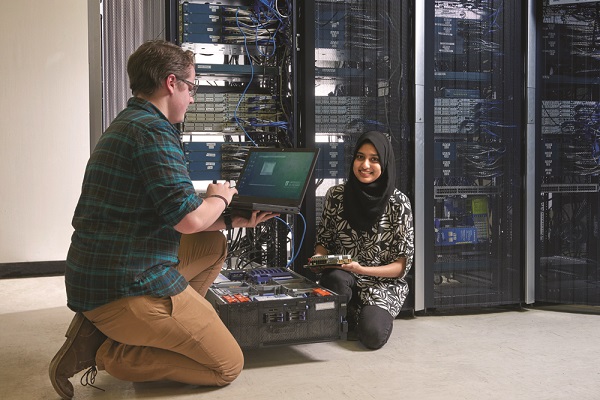 In our rapidly evolving technological world, we increasingly turn to our smartphones, tablets and laptops to complete everyday tasks like banking or shopping. But there's a downside to this convenience: it opens the door for hackers to take advantage of security vulnerabilities in our mobile devices.
Data breaches are a serious threat to both major corporations and average consumers. Take Facebook's 2018 data breach, where more than 540 million user records were exposed on Amazon's cloud computing service; or the 147 million people worldwide (including 19,000 Canadians) affected by Equifax's 2017 data breach.
One of the easiest ways for hackers to access sensitive information is through 'endpoints':  remote wireless and mobile devices that connect to and communicate with a network. The visibility and monitoring capabilities of existing endpoint security technologies like anti-virus software, firewalls and anti-spyware can only do so much to keep up with the growing volume, sophistication and complexity of these attacks.
Artificial intelligence (AI) is now being incorporated into endpoint security technologies to help identify and thwart breach attempts before they happen. AI algorithms can perform millions of calculations per second to predict and respond to suspicious activity. Machine learning, as an enabler of AI, can help automate some aspects of endpoint security by training computer networks to detect harmful files and block them, flagging changes in normal data-access patterns, and ensuring endpoints comply within internal and regulatory security standards.
The market demand for AI in information technology security has never been greater, with companies struggling to fill required positions with professionals in this field. Ontario Tech University in Canada is uniquely positioned to help meet this need.
In September 2018, Ontario Tech's Faculty of Business and Information Technology introduced a specialized field within its Master of Information Technology (IT) Security program that focuses on AI. The Master of Information Technology Security – Artificial Intelligence in Security (MITS-AIS) specialization combines a deep knowledge of IT security with hands-on knowledge of AI systems and machine learning. The curriculum provides students with a comprehensive understanding of the applications of this technology and opportunities to apply their knowledge through an internship or a capstone research project focused on a specific problem. MITS-AIS has already attracted a large number of applicants from around the world.
The Vector Institute, a collaborative research centre on AI in Canada, recently added MITS-AIS to its list of recognized master's programs in AI. This recognition not only gives MITS-AIS students access to the Vector Institute's publications, contacts, research and programming, but also allows them to compete in an exclusive pool for the Vector Scholarship in AI (VSAI), established in collaboration with the Province of Ontario in 2017. Ontario Tech Computer Science master's student Samantha Stalke won one of these prestigious scholarships in 2018.
Quotes:
"Ontario Tech University's Faculty of Business and Information Technology is uniquely positioned to provide graduate students with the latest AI-related knowledge and skills that will give them an edge in the ever-evolving field of IT security. Our renowned faculty members include experts with extensive experience in the AI field. Their expertise spans areas such as state-of-the-art machine learning, multi-objective optimization, and the application of AI within various areas of security, from marketing and finance to privacy and computer authentication."
- Miguel Vargas Martin, PhD, Professor and Graduate Program Director, Faculty of Business and Information Technology, Ontario Tech University
"This endorsement by the Vector Institute is another example how Ontario Tech University's graduate students get further ahead. MITS-AIS graduates will be prepared to take their place as leaders in today's IT sector facing constantly evolving cybersecurity threats."
- Langis Roy, PhD, Dean, School of Graduate and Postdoctoral Studies, Ontario Tech University