Transforming dementia care through technology: Ontario Tech University and Ontario Shores unveil new research partnership
October 28, 2019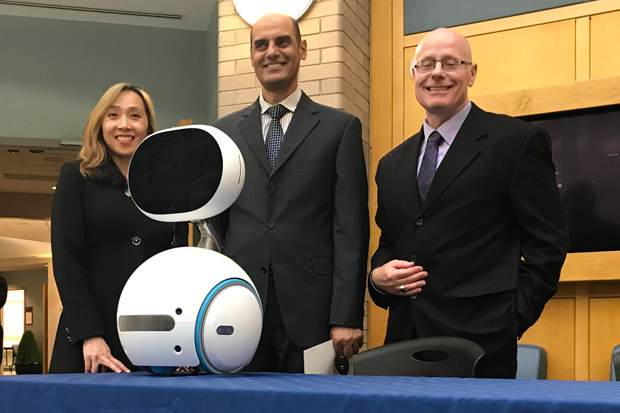 Leading-edge community-based research and remarkable advances in technology will combine to uncover new solutions for dementia care, offering new horizons for patients and their caregivers.
A new partnership between Ontario Tech University (Ontario Tech) and Ontario Shores Centre for Mental Health Sciences (Ontario Shores) will create a Clinical Demonstration Unit (CDU) at Ontario Shores to explore a wide range of innovative treatment options.
To help individuals with dementia remember events, people and places from their past, research teams from both organizations will combine expertise to explore the potential of high-tech tools such as conversational robots, reminiscence therapy using virtual reality, and a multi-sensory wellness chair.
The CDU is part of the Geriatric Dementia Unit at Ontario Shores and together, the teams will implement bold new technology-enabled solutions for dementia care including:
Artificial Intelligence (AI): Leveraging AI with a conversational robot to detect and manage behavioural and psychological symptoms of dementia.
Virtual Reality: Introducing reminiscence therapy through a virtual reality application to promote social connectedness.
The Wellness Nordic Relax Chair: Providing an individualized multi-sensory experience, including music therapy, rocking, tactile stimulation/low back vibration, contoured design and deep pressure stimulation via a weighted blanket.
Bright Light Therapy: Providing prescribed exposure to light five to 30 times brighter than typical office lights to promote calmness, happiness and improved sleep.
Personalized Music Interventions: Using parametric speakers to provide individualized music therapy, which can evoke memories from the past and increase communication.
Ontario Shores and Ontario Tech look forward to the evolution of this CDU partnership and the introduction of these innovative and non-pharmacological patient-centred interventions to improve the quality of life for patients with dementia.
Announced research projects:
Leveraging Artificial Intelligence and a Conversational Robot to Detect and Manage Behavioral and Psychological Symptoms of Dementia (BPSD) on a Clinical Demonstration Unit
Principal Investigators: Dr. Khalid Elgazzar (Faculty of Engineering and Applied Science (FEAS), Ontario Tech) and Dr. Ilan Fischler (Ontario Shores)
Co-Applicants: Dr. Emma Bartfay (Faculty of Health Sciences (FHSc), Ontario Tech) and Dr. Wally Bartfay (FHSc, Ontario Tech)
Advancing Reminiscence Therapy through Virtual Reality Application to Promote Social Connectedness of Persons with Dementia
Principal Investigators: Dr. Winnie Sun, Dr. Manon Lemonde (FHSc, Ontario Tech) and Ms. Sheri Hornsburgh, Ms. Julie Earle (Ontario Shores).
Co-Applicants: Dr. Alvaro Quevedo (Faculty of Business and Information Technology (FBIT), Ontario Tech), Dr. Ramiro Liscano (FEAS, Ontario Tech), Dr. Bill Kapralos (FBIT, Ontario Tech), Dr. Akira Tokuhiro (Faculty of Energy Systems and Nuclear Science, Ontario Tech), and Dr. Emma Bartfay (FHSc, Ontario Tech).
Quotes
"We are proud to partner with Ontario Tech to create a space of technological innovation in frontline dementia care. With more than 46 million worldwide living with dementia, Ontario Shores is excited to play a lead role in revolutionizing dementia care for our communities and beyond." 
-Karim Mamdani, President and CEO, Ontario Shores
"The combined expertise of Ontario Tech University and Ontario Shores demonstrates the immense power of community partnerships to improve the lives of humans and the planet. Our interdisciplinary research approach in the coming months and years will help us collectively address the challenges of dementia care and develop innovative solutions. Through the ethical application of technology, we will chart important new ground on a pressing societal issue affecting so many families."
-Dr. Steven Murphy, President and Vice-Chancellor, Ontario Tech University
"My firsthand experience as my mother's caregiver quickly led me to realize that caring for a loved one with dementia is overwhelming. That's why I am very excited to be supporting the creation of the Clinical Demonstration Unit, which will improve patient and caregiver quality of life through the implementation of cutting-edge research and technological innovations."
-Chaitali Desai, CDU Working Group member, about what it's like supporting a loved one with dementia 
About Ontario Shores Centre for Mental Health Sciences:
Ontario Shores Centre for Mental Health Sciences (Ontario Shores) is a leader in mental health care, providing a range of specialized assessment and treatment services for people living with complex mental illness. Patients benefit from a recovery-oriented environment of care, built on compassion, inspiration and hope. Ontario Shores engages in research, education and advocacy initiatives to advance the mental health care system.
About Ontario Tech University
A modern, forwarding-thinking university, Ontario Tech advances the discovery and application of knowledge to accelerate economic growth, regional development and social innovation. We inspire and equip our students and our graduates to make a positive impact in a tech-focused world. For us, it's not only about developing the next tech breakthrough. Understanding and integrating the social and ethical implications of technology differentiates us as university. Learn more at ontariotechu.ca
For more information, please contact:
Andrea Marshall
Ontario Shores Centre for Mental Health Sciences
Director, Communications, Volunteers and CEOD
905.430.4055 ext. 6581
905.439.0224
marshalla@ontarioshores.ca
Bryan Oliver
Ontario Tech University
Communications and Marketing
905.721.8668 ext. 6709
289.928.3653 (mobile)
bryan.oliver@ontariotechu.ca
Gallery