Facial recognition research and partnership could have significant impact on future of policing
Ontario Tech University collaborating with V13 Policetech Accelerator in Northumberland County and Canadian Civil Liberties Association
June 6, 2022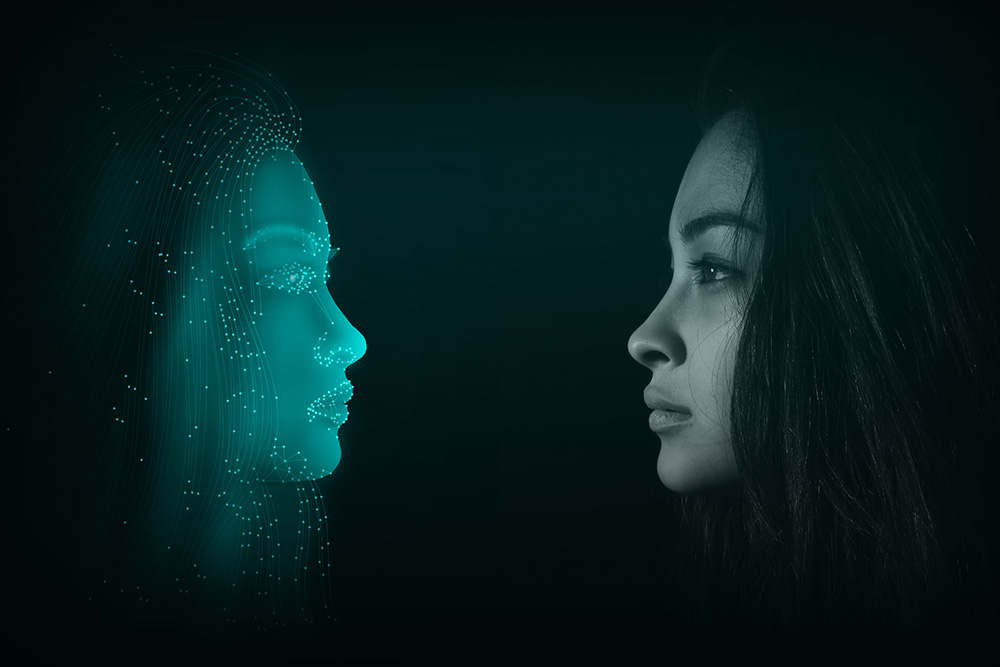 One of Ontario Tech University's (Oshawa, Ontario) primary research goals is to 'improve lives and the health of the planet through the ethical application of technology.' While new technologies have the potential to solve a great number of societal problems, finding a balance between the greater public good and the reasonable use of technology sometimes generates complex debate.
One such area under scrutiny is policing and the use of facial recognition technology (FRT) as an investigation tool. Strong ethical and legal guidelines are paramount in ensuring public confidence that if FRT systems are deployed by law enforcement agencies, that they contribute to public safety, respect privacy rights and are tamper-proof.
At Ontario Tech, Faculty of Social Science and Humanities researchers Dr. Andrea Slane (Legal Studies) and Dr. Christopher O'Connor (Criminology and Justice) are exploring these concerns and  implications in a broad multi-year community research partnership with the V13 Policetech Accelerator (a joint initiative of Northumberland Community Futures Development Corporation (NCFDC) and the Cobourg Police Service at Venture13 in Cobourg, Ontario), and the Canadian Civil Liberties Association (CCLA). The project has secured federal funding from the Social Sciences and Humanities Research Council (SSHRC). 
Community-driven solution: The V13 Policetech Accelerator
In 2020, with the support of FedDev Ontario, the Cobourg Police Service (CPS) teamed with NCFDC to launch the V13 Policetech Accelerator, a strategic initiative that drives innovative policing technologies and entrepreneurship to improve community safety.
The Accelerator awarded the Ontario Tech research team the opportunity to work with the frontline CPS Innovation Platoon (a select group of innovative frontline personnel) to develop and validate new approaches for modern policing in a controlled and defined small-town, pilot-scale environment.
With the promise of a funding contribution from the Accelerator's Start-up Stream, the Ontario Tech research team successfully applied for a SSHRC Partnership Development Grant of $200,000 over three years. The collaboration has since brought in further input from experts at the University of Toronto (Dr. Lisa Austin) and the Canadian Civil Liberties Association (Dr. Brenda McPhail).
Study conclusions anticipated by 2024 will explore ways out of the current impasse over FRT use by police in Canada. The project aims to identify good models of public engagement that allow people to make meaningful contributions, and offer a governance model that everyone can have faith in.
Quotes
"There is significant concern about facial recognition technology in policing, particularly with regard to bias in the technology and lack of oversight. We all desire our communities to be safer, but we also want deployments of technology by police to be fair and to preserve privacy except where truly justified. Federal and provincial governments and municipal police service boards have been consulting stakeholders on how to best oversee use of facial recognition tools by police, but we still have a long way to go to find the best governance model."
-Dr. Andrea Slane, Professor (Legal Studies), Faculty of Social Science and Humanities, Ontario Tech University
"This is a critical juncture to be developing ethical and legal guidelines for facial recognition in policing. The lessons to date reinforce that we need to develop solutions at the community level, in a consultative manner, with meaningful public input. Our project with the CPS and CCLA aims to develop public engagement models and test them with a diverse range of community members. We hope the outcomes of the project provide useful guidance for how to best incorporate public consultation into police practices wherever a controversial technology is at issue."
-Dr. Christopher O'Connor, Associate Professor (Criminology and Justice), Faculty of Social Science and Humanities, Ontario Tech University
"Our Accelerator was designed to play a leading role in igniting new approaches to community safety innovation. We aim to position collaborations such as this one with Ontario Tech at the forefront of applied research, with a determination to explore the full social and ethical ramifications of rapid technological advancement in policing. We expect the results of this study to be nationally significant."
-Wendy Curtis, Executive Director, Northumberland Community Futures Development Corporation
"Having the public's trust is vital as police look to harness innovative technologies and approaches to address community safety and improve investigative outcomes. Policing in the current Canadian context requires open dialogue and robust research to develop best practices and ethical guidelines to ensure accountability. FRT is a divisive topic. Through the V13 Policetech Accelerator, we are investing in research and leveraging expertise and knowledge to ensure the highest level of accountability and transparency when deploying FRT. In collaboration with the Canadian Civil Liberties Association and the University of Toronto, our partnership with Ontario Tech will progress the future of policing and enhance community safety across Canada."
-Chief Paul VandeGraaf, Cobourg Police Service
"As a society, we need to ask the full range of critical questions about facial recognition technology (FRT), starting with IF it's a good idea to use it. Once we're past that foundational question, we can move on to where, when, and how FRT might be used in Canada, and what significant and legally enforceable safeguards are necessary to protect individual and community privacy. This study, which focuses on how to consult with people about a complex and controversial technology that they may not have had a chance to learn much about yet, so they can contribute in an informed manner to the essential public conversations we need to have about the potential use of this technology, is timely and CCLA is happy to work with the project partners to do this important work."
-Dr. Brenda McPhail, Director, Privacy, Technology & Surveillance Program, Canadian Civil Liberties Association
Media contacts
Bryan Oliver
Communications and Marketing
Ontario Tech University
289.928.3653 (mobile)
bryan.oliver@ontariotechu.ca
Joe Miller
Business Development Officer
V13 Policetech Accelerator Lead
NCFDC
joe.miller@northumberlandcfdc.ca
Lisa Munday
Communications Coordinator
Cobourg Police Service
lisa.munday@cobourgpolice.com