Robots storm campus for annual competition
University offers dynamic learning experiences for high school students
November 14, 2019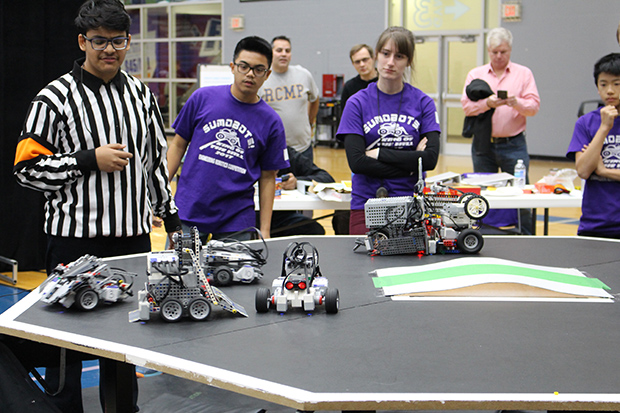 OSHAWA, ONTARIO – On Saturday, November 16, join Ontario Tech University's Faculty of Engineering and Applied Science at its 14th-annual high school Engineering Robotics Competition. More than 50 teams of students have worked hard to design, build and program Sumo-bots using a LEGO Mindstorm kit. The teams have combined their skills in science, technology, engineering and mathematics to give their robot the best chance to be a champion.
Months of work culminate at this event, where the teams battle in a 'sumo-style' competition. The autonomous robots have to push each other out of a competition ring with no human control. The last robot standing is dubbed 'king of the hill'.
Ivan Catovic, former competitor and now Ontario Tech University fourth-year Electrical Engineering student, will be on hand to offer mentorship to participants and to discuss how this competition was a cornerstone of his academic journey.
Engineering Robotics Competition info:
When:
Saturday, November 16
Practice sessions run in the morning. First-round matches begin at noon, with finals at 3:45 p.m. Spectators are welcome. Admission is free.
Where:
Ontario Tech University
Campus Recreation and Wellness Centre, gyms 3, 4 and 5
2000 Simcoe Street North
Oshawa, Ontario
Parking:
Founders Lot 2
Media contact:
Samantha Munro
Ontario Tech University
Faculty of Engineering and Applied Science
905.721.8668 ext. 3568
905.261.9427 (cell)
samantha.munro@ontariotechu.ca