Silicon Valley company Verkada tapping into Ontario Tech's impressive student talent
Enterprise security systems leader travels from California to engage and recruit future grads
November 21, 2019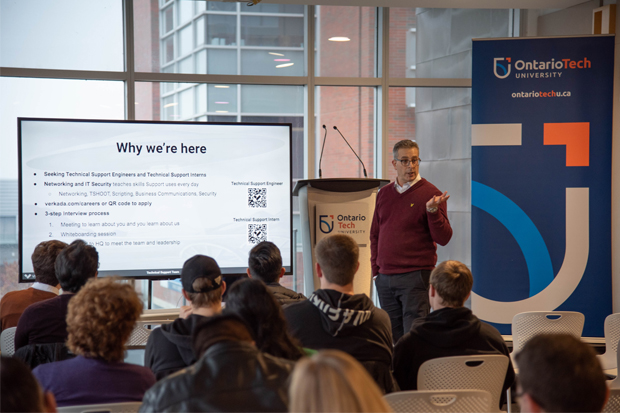 More than 4,300 kilometres separates San Mateo, California from the campus of Ontario Tech University. But no distance is too far to travel when a top startup company from Silicon Valley like Verkada is looking to find the best university talent to help drive future success.
In just three years, Verkada has become a powerful force in the world of enterprise security systems, artificial intelligence and cloud-based software platforms. The company's workforce has increased five-fold in the past year alone.
On November 21, Verkada invested the time and cost to travel north to Ontario Tech to meet and recruit students, specifically in the high-demand areas of Networking and Information Technology, Engineering, and Computer Science.
Ontario Tech is turning heads at Verkada thanks in large part to the outstanding performance of recently hired interns like Reese Daniel (Networking and IT Security, class of 2020). Reese's contributions in San Mateo this year have been so impressive, they flew him back to campus as part of the company's Ontario Tech visit to start interviewing more students.
Verkada sent Ontario Tech 20 cameras ahead of time to demonstrate the technology's functionality during a hands-on session in the Software and Informatics Research Centre's Hacker Lab.
Verkada's Brandon Davito, Vice-President of Product and Operations, and Ethan Cuttler, Technical Support Manager spoke to students about the drive, innovative thinking and collaborative approach Verkada has observed in Ontario Tech interns like Reese Daniel.
Verkada's high-growth trajectory by the numbers:
Founded in 2016
Listed on Forbes' 50 AI companies to watch list
Among the top 50 startups to work for in the United States (source: LinkedIn)
Current staff: 250
Company valued at US$540 million
Secured another US$40 million in Series B funding in April 2019
Connecting historical ties:
Verkada co-founder Hans Robertson also co-founded Meraki, a company later purchased in 2012 by high-tech giant Cisco Systems Inc.
Cisco Meraki also recruits many Ontario Tech students.
Verkada's Technical Support Manager Ethan Cuttler (who helped found Cisco Meraki's Technical Support team and also was part of the campus visit) has always been impressed with the Ontario Tech talent he met while at Cisco Meraki.
Learn more about programs at Ontario Tech University:
Gallery