Ontario Tech University Engineering students kicking off the new decade with a 72-hour robot-building showdown
2020 version of Ri3D takes place January 4, 5 and 6
December 20, 2019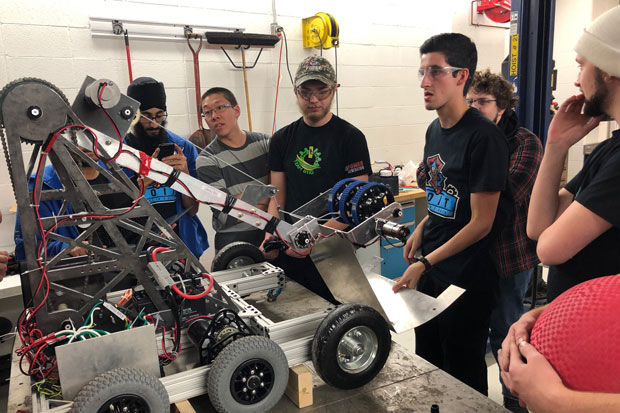 Just before Ontario Tech University students return from the holiday break, campus will be buzzing during a marathon robot-building competition Saturday, January 4 to Monday, January 6.
More than 100 Faculty of Engineering and Applied Science students, along with teams of high school students from across Durham Region, will put their expertise to the test in ACE, 'The World's Most Extreme Classroom', for the 2020 Robot in 3 Days (Ri3D) international challenge. Ontario Tech is one of just three Ontario teams competing in Ri3D this year.
For the second year in a row, Ri3D at Ontario Tech will be livestreamed around the globe. Participants must create a robot from start to finish in just 72 hours using advanced engineering theory and application, and their skills in such areas as 3D modelling, circuit design, programming and manufacturing.
New for 2020 at Ri3D
The Ri3D team will host a FIRST Robotics Kickoff event on Saturday, January 4. The Kickoff ignites the start of the 2020 FIRST® Robotics Competition (FRC) season. FRC teams of high school students from across Durham Region will gather to watch the game reveal along with the Ontario Tech Ri3D team, and celebrate the upcoming challenges of the season ahead. The Ontario Tech Ri3D Kickoff event is one of eight events happening simultaneously in Ontario.
What – Robot in 3 Days (Ri3D) competition and FIRST Robotics Season Kickoff (Saturday only).
When – Saturday, January 4 at 9 a.m. until Sunday, January 5 at 8 p.m. (final robot 'reveal' on Monday, January 6 at 6 p.m.)
Where – ACE, Ontario Tech University (adjacent to the Engineering Building), 2000 Simcoe Street North, Oshawa, Ontario
Visual opportunities for media: Inside views of ACE R&D chambers, students working, and engineering design process (Saturday), robot physically being built (Sunday), robot playing "game" (Monday).
Interview opportunities for media: Ontario Tech Engineering student participants, John Komar (Executive Director of ACE and FIRST Alumnus), and high school FRC team members.
About the FIRST Robotics Competition
The majority of Ri3D participants are 'alumni' of the annual worldwide high school robotics competition program known as 'FIRST' (For Inspiration and Recognition of Science and Technology). During the FIRST Robotics Competition, teams of high school students have three months to build a robot from the ground up. Each team's robot must then compete in a specific 'game', consisting of completing a pre-determined set of tasks (such as shooting a ball into a net, or climbing a wall). One FIRST competition happens on campus at the Campus Recreation and Wellness Centre every March.

Ri3D backgrounder
FIRST alumni from around the world, who missed competing with their FRC teams after graduating high school, founded Ri3D as a grassroots initiative. The Ri3D project started as an outreach program, with the main goal of inspiring an audience of high school FRC teams to build their own robot for FIRST competition. They took the challenge of creating a robot in three months and shortened it down to three days to showcase the problems a rookie team may run into, how to solve those problems, as well as navigate the nuances of team management and logistics. The program quickly evolved into a student learning opportunity for high school and undergraduate students alike.

Media contact
Samantha Munro
Communications Co-ordinator
Faculty of Engineering and Applied Science
Ontario Tech University
905.721.8668 ext. 3568
samantha.munro@ontariotechu.ca
Gallery